A touch of world theatre
5th Colombo International Theatre Festival
View(s):
The 5th Colombo International Theatre Festival with the participation of a number of foreign theatre productions together with local production will kick off from April 1 at the British School in Colombo and will go on till April 6.
One of the main features of this year's festival is felicitation of veteran playwright Parakarama Niriella and the festival will include plays by theatres groups from Germany, Georgia, Italy and India.
The festival opens on April 1 with Parakrama Niriella's maiden play 'Sekkuwa' a stylised absurd drama depicting the Sri Lankan socio political environment (parliamentary system) and the way the people are addicted to and deceived by the system. The play which bagged 6 awards including the Best Script at the state drama festival in 1976, uses symbols to portray elements of the 'haves' and 'have-nots'.
On April 2 three plays will be staged starting with the Georgian play 'Carmen' directed by Konstantin Purtseladze. Based on "Carmen Suite" music by Bizet Shchedrin, the play which demands professional ballet dancers but successfully played by  cast consists of only drama actors.
Other plays are 'Swaranaboomi' directed by Sudarshana Krishantha and R. Loganathan's  'Irumbil Poruththiya Ithayam'.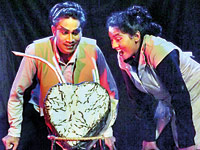 On April 3, Italian production 'KNOTS – Rules to be happily unhappy' directed by Else Marie Laukvik will be featured. According  to the "United Nations Commission on Human Rights" there are around 100 million people that live in the street in the world. Unhappiness is painfully necessary… But what is the unhappiness? Can we be sure of the happiness or unhappiness of somebody else?
This will be followed by two Sri Lankan plays'Laughing Dreams' directed by  Sachithra Rahubadda and 'Lanuwa' (The Rope) directed by Randika Wimalasooriya.
German play 'Solo with a Nose' directed by Michael Miensopust will be the main play on April 4.  "Solo with a Nose" is a little story of mankind, humorously inviting us to make our own imaginative discoveries a metaphorical poetical play, turning the world upside down with pleasure. It shows a graceful and musical kaleidoscope of life, changing and transforming continually, setting no boundaries to the imagination.
Two Sri Lankan plays 'Naan Yaar' directed by  Rumesh Tharuka and 'Mama Adakumbai' directed by Devinda Wickramasinghe will also be staged.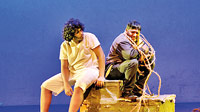 On April 5 two Indian plays 'Unseen' directed by  Vishnupad Barve and 'Bhima' directed by  Vivek Vijayakumaran will be staged.
The originally written in 'bangla', text of 'Unseen' is loaded with irony as well as a pervasive helplessness of a man trying to pinpoint the markers of masculine superiority in a social system he has himself questioned repeatedly. Incidentally, when the letter was published in the Bharati periodical, it drew strident criticism, even from his own sister, Swarnakumari Devi.
'Bhima' is a play that explores the space between where we come from and where we want to go. The gap between what we are made of and what we are made out to be. How love can lighten and brighten our lives us as much as weigh it down.
On the final day four Sri Lankan plays will be staged. They are 'Karanama' directed by Kithmini Shanika,  'Podi Eka Enakam' by Saman Nandan, 'Sudu Hadawath' directed by Kalum Krishanthi and 'Tap' directed by
Udara Vidushanka.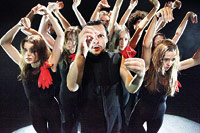 In parallel to the theatre festival, Colombo Theatre Forum(Invitees only)– a meeting place for both local and international directors and artistes, to discuss present Ideologies, future trends and challenges that concern the emerging and experimental theatre industry in general– will be held from April 2 to 4 at German Cultural Centre. Colombo Theatre Workshop conducted by foreign and local theatre scholars will be held from April 1 to 6 at the Indian Cultural Centre, Colombo.