Tournament intended to achieve new levels of participation
By L.D. Chandrasiri, Matale
Second 'Thomians 7s' invitation schools hockey tournament 2016
View(s):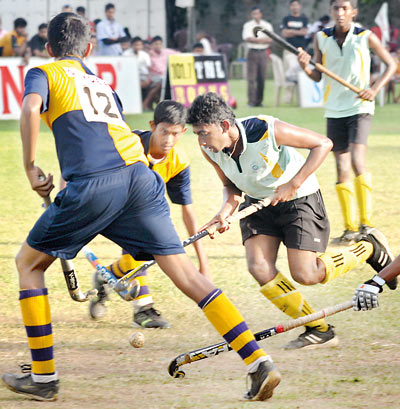 The second Thomians Sevens 2016 7-a-side Hockey Tournament for invitation schools conducted by Matale Old Thomians Hockey Association (MOTHA) will get underway at Edward Park hockey ground in Matale on Saturday, March 5, commencing at 6.45am.  Speaking to the Sunday Times, the Secretary of MOTHA, Eric Hulangamuwa said that this tournament is intended to achieve a new level of participation by leading hockey playing schools in the island and also to make hockey an entertaining and enjoyable sport.
The inaugural Thomians Sevens held in 2014 attracted 20 best of teams amongst the schools and a very high standard of hockey was witnessed.
Their main aim is to provide a feast of hockey to the hockey crazy public in Matale and also to give tremendous boost to bring back hockey to what it was in Matale. This year's tournament will see the participation of 20 Under-19 boys teams representing leading hockey playing schools across the island namely – Royal, Ananda, Nalanda, D.S. Senanayake and S. Thomas' Mount Lavinia from Colombo, Trinity, St. Sylvester's, Kingswood and Dharmaraja from Kandy, St. Thomas', Zahira, Vijaya and Christ Church from Matale, Dharmadutha (Badulla), Joseph Vas College (Wennappuwa), Maris Stella (Negombo), Bandaranayake MV (Gampaha), St. Aloysius (Galle), St. Thomas' (Matara) and Jaffna College (Vadukkodai, Jaffna).
The winners will receive the 'A.J. Wijesinghe Memorial Challenge Trophy' presented in memory of late A.J. Wijesinghe, Principal of St. Thomas' College Matale (1965-1985) and the runners-up is entitled to receive 'A.P.B. Harasgama Memorial Challenge Trophy' presented in memory of late A.B.P. Harasgama, the former President of Sri Lanka Hockey Federation (SLHF). The C.K. Hulangamuwa Memorial Trophy in memory of late Squadron Leader C.K. Hulangamuwa (National and International Hockey player) will be awarded to the second runner-up team. Apart from that the best player of the tournament will receive Asian Hockey star 'Ranjith Wijekoon Challenge Trophy' while 'Dampiya Wanasinghe Challenge Trophy' will be presented to the up and coming player 2016. In addition, the best players of consolation final and quarter-final matches will also be rewarded.
The climax of the day's proceeding is the Golden Awards ceremony, where Matale Old Thomians Hockey Association will pay tribute to 10 past hockey players of national and international fame produced from Matale. This year's recipients are Jayampathi Perera, Chandra Wijekoon, Ananda Liyanage, Farook Mohatha, Tissa Etipola, Dr. R. Mahendran, G.H. Rupasinghe, S.J. Seyed Ajuward, T.A. Kamaldeen and Major General A.S.M. Zaheer. The chief guest for the opening ceremony at 6.30am on March 5 will be Rohana Dissanayke, the President Matale Hockey Association and the guests of honour will be Mayor of Matale Hilmy Careem and Principal of St. Thomas' Matale Dampiya Wanasinghe. State Minister of Agriculture Wasantha Aluvihare will grace the closing ceremony as the chief guest. Two Matale schools Vijaya and Christ Church emerged joint champions at the inaugural Thomians Sevens held in 2014.