The 'fire' within
View(s):

Millions take to Tennis. Only a hand full becomes prominent. 'Working out what wins and doing it successfully' is the definition of being smart in sports. It is that simple. While there is no way to define the challenge on a Tennis court, it is possible to define what a player should be as a top performer. The path of being smart in sport strangely is not the same to all. This can make a player face the 'catch 22' situation.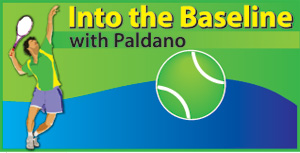 Figuring out 'what works' could be a long trial and error process. Smart players are rare and the most appealing jewel for sport spectatorship. Millions want to watch a magician, talk about a one and remember their performance almost as a celestial occurrence.
Australia's Nick Krygios
In many ways Australia's Nick Krygios is a reminder of the early days of John McEnroe and Ille Nastase. The 'unacceptable' aspect one sees in Kyrgios's court behavior was there in McEnroe and other world beaters. Eventually McEnroe became a legend which no one will dispute today. His brilliance and his contribution to the game are etched in history. Last week Nick Krygios won his first ATP title in Marseilles France, surprising many critics. He beat none other than Marin Cilic, former US-Open winner. Could it be what we see in Krygios, is another path of reckoning to become a great player? In Tennis, it is a fine line between kindling one's own fire within and being fired for being over fired on court.
Sighting and reacting
Many consider Tennis stroke making, difficult. In reality, it is not difficult when compared to other factors needed to win. Some master Tennis strokes sooner than others but everyone can master it. What is difficult is to achieve is an effective game that supports winning all the time. This is the challenge every player faces. Very few perform this magic well.
How do world beaters get this? No one knew who Nick Krygios was until the last two Wimbledon championships. That is where he made his first mark. There is no doubt that Australia will do anything to make Kyrgios a great player. Aging Lleyton Hewitt is the last big name from Australia. He has announced that 2016 will be his last, on tour. It would be difficult for many to recollect names like Patrick Rafter and Pat Cash of the seventies, eighties and nineties. Now it's time Australia chalked up another name.
They need this ASAP.
Krygios has all that is needed to be a good player. He is tall and that gives him a good reach. Tall players are generally not bio-mechanically fluid and quick in reaction but Kyrgios is fast and fluid as well. Fast reaction is not the product of mere speed of muscular flexes but also extreme fast sighting. It is said that nearly 30 per cent of the brain is dedicated to the eyes while sound gets a mere 8 percent. Kyrgios is very 'natural'. This means he sights and adapts very fast and is smart enough not to get caught to the same trick of opponents twice.
The magic portion
Good matches and match practice is the magic portion to become a 'smart-player'. It is also the secret of many good coaches and good training centers in the world. That is giving their players good matches. In a tournament if player comes through three tough matches and possibly a five setter in the early rounds, chances are, that player will win the title. Good matches engage every aspect of competition Tennis. There is no alternative to this magic portion. If players in their tournament preparation run, does not get at least three sets a day and five days a week, their game making ability will not fall into place. In Sri Lanka we lack good practice matches and good matches which was achieved in the past using the Indian Tennis circuit.
Murray's contribution
In 2015 Krygios was prominent because of the turbulences and tantrums on court than good Tennis. It could not have been that bad because he ended up in the top fifty of the world ranking. 'Patience' is not the word young men in the late teens want to hear. All the same Andy Murray dispensed the same on Krygios using different words. Murray suggested that Nick Krygios must have a target of reaching the top fifteen by the end of 2016. Murray said this during the Australian-Open event in January this year. Krygios is ranked in the 30's now. When I read that Krygios has won the title in Marseilles in France, I felt Murray's message has sunk into Krygios. Often simple things like this can trigger the winning genes. Let us hope his 'fire within' is kindled for this year. He now has a target.
February
Italy's Sara Errani Won the Dubai-Open last week with a class of Tennis which she produces only at times. In Dubai she dispatched nervous Czech Barbora Strycova easily in the finals.
Eventually the maestro too had to stand a surgery. Roger Federer had to go through meniscus operation. He is already on court practicing. The thin line between use and abuse of body is a difficult balancing act even with Swiss precision. Federer is still well fired within to win!
George Paldano, Former int. player; Accredited Coach of Germany; National, Davis-Cup, Federation Cup coach–. georgepaldano@yahoo.com