India overcomes early shudders to post comfortable win
View(s):

India trounced bitter rivals Pakistan by five wickets in a one-sided affair at the Asia Cup Twenty20 tournament in the Bangladeshi capital Dhaka on Saturday. Hardik Pandya claimed a career-best 3-8 as India bowled out Pakistan cheaply for 83 runs in 17.3 overs. India too were struggling at 3 for83 before reaching 85-5 with 27 balls to spare.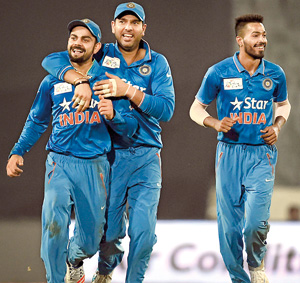 Virat Kohli made 49 runs for India while Mohammad Amir claimed 3-18 for Pakistan. India slipped to 8 for 3, but a Wahab Riaz over that Kohli took full advantage of turned the tide. Albeit having a bit of luck, Kohli battled out through the tough periods as Mohammad Irfan and Mohammad Sami kept the batsmen in check before opening up against Riaz.
The game served a fine reminder of why sometimes just good, old-fashioned Test match batting (leaving deliveries outside off) – which Kohli and Yuvraj Singh showcased brilliantly. India eventually finished with four overs to spare and by five wickets. It was a low-scorer, but was a thriller!
Everyone said the battle would be between India's batsmen and Pakistan's bowlers. But as it turned out, it was between India's bowling and Pakistan's batting that decided the eventual outcome.
While India picked up their second win in the tournament, Pakistan slipped to a loss in their opener.
Kohli was named the Man of the Match for his patient, yet match-winning knock, of 49.
Scoreboard
Pakistan
Mohammad Hafeez c Dhoni b Nehra 4
Sharjeel Khan c Rahane b Bumrah 7
Khurram Manzoor run out 10
Shoaib Malik c Dhoni b Pandya 4
Umar Akmal lbw b Yuvraj 3
Sarfraz Ahmed b Jadeja 25
Shahid Afridi run out 2
Wahab Riaz lbw b Jadeja 4
Mohammad Sami c Raina b Pandya 8
Mohammad Amir b Pandya 1
Mohammad Irfan not out 0
Extras (lb4 w11) 15
Total ( all out; 17.3 overs) 83
Fall of wickets: 1-4 (Hafeez), 2-22 (Sharjeel), 3-32 (Khurram), 4-35 (Malik), 5-35 (Akmal), 6-42 (Afridi), 7-52 (Wahab), 8-70 (Sarfraz, 9-83 (Sami), 10-83 (Amir)
Bowling: Nehra 3-0-20-1 (w3), Bumrah 3-2-8-1, Pandya 3.3-0-8-3, Yuvraj 2-0-11-1, Jadeja 3-0-11-2 (w3), Ashwin 3-0-21-0 (w5)
India
R. Sharma lbw b Amir 0
A. Rahane lbw Amir 0
V. Kohli lbw b Sami 49
S. Raina c Wahab b Amir 1
Y. Singh not out 14
H. Pandya c Hafeez b Sami 0
MS Dhoni not out 7
Extras (b1 lb3 w8 nb2) 14
Total ( five wickets; 15.3 overs) 85
Fall of wickets: 1-0 (Sharma) 2-2 (Rahane), 3-8 (Raina), 4-76 (Kohli), 5-76 (Pandya)
Did not bat: R. Jadeja, R. Ashwin, J. Bumrah, A. Nehra
Bowling: Amir 4-0-18-3 (w6), Sami 4-0-16-2, Irfan 4-0-16-0 (nb1 w1), Riaz 3.3-0-31-0 (nb1, w1)
Toss: India