'Flying Colours' Hasini's ray of hope
View(s):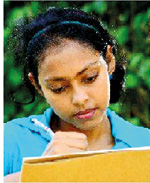 Young artist Hashini Himasha Chandrasiri's maiden exhibition 'Flying Colours' is on at the Lionel Wendt Gallery today. An artist from childhood, she is also a cartoonist and children's book illustrator. But what sets her apart from other blossoming talents is the fact that she suffers from a life-threatening illness and is hoping to raise funds for her medication from the proceeds of the exhibition. Her mother passed away in 2009 and her father is currently unemployed so it is an uphill struggle for survival.
Hasini's work radiates colour and a sheer exuberance for life, all expressed in a variety of mediums including acrylic paints, gel pens, pencils, charcoals and watercolours. The exhibition ends tonight.