Veteran journalist, lyricist Ajantha passes away
View(s):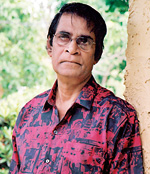 Veteran journalist and lyricist Dr Ajantha Ranasinghe passed away yesterday. He was 75-years-old.
Born in Thalammahara, in the Kurunegala district, Dr. Ranasinghe first attended a government school in Pannala, after which he entered St. John's College, Nugegoda. His life was enriched by regular visits by a string of artistes to the home of his uncle, Asoka Peiris.
Even at a young age, Dr Ranasinghe wrote Buddhists songs to the Lama Mandapaya of Radio Ceylon. He gave up studies and produced poetry and short stories for the children's page in the Silumina and Peramuna newspapers. And, as a teenager, he was already composing verses for the Silumina, Vanitha Viththi and Lankadeepa publications.
He later applied for and was hired as a staff reporter in the Dinamina publication of Lake House. He rose through the ranks as Sub Editor, Local News Editor, Additional Chief Sub Editor, Chief Sub Editor and Features Editor. He was eventually made Chief Editor of Navayugaya, which he transformed into a platform to showcase the talents of young writers. He served more than three decades as a journalist.
Dr. Ranasinghe married Sarojini, daughter of singer Kokiladevi Weeratunga. Throughout the 70s, he produced a treasure-trove of lyrics for famous singers. He became well known for his verses.
His skills as a lyricist earned him a string of Sarasaviya, OCIC Honorary, State Literary, Raigam, Sumathi and Cumaratunga Munidasa awards. He was conferred a Doctorate in appreciation of his Literary work. He won the President's Award for Best Song Writer of the Year on three occasions. In 2014, the Editor's Guild of Sri Lanka honoured him with a Lifetime Achievement Award under the annual Journalism Awards for Excellence Programme.
Some of his most famous lyrics are 'Pokuru Pokuru Mal Senakili Omari Lathawe'; 'Indunil Gangulal'; 'Mangala Mal dama'; 'Punchi Dawaswala'; 'Kalpana Lowa Mal- wane'; 'Siri Bo Meda'; 'Ninda Nene Rathriye'; 'Mata Wasanam'; 'Raththaran Pem Purane'; 'Hanga Gallene'; 'Pemathura Hengum'; and 'Nirvana Swarna Dwarayen'.
He wrote songs for both, veteran artistes such as W.D. Amaradewa, H.R. Jothipala, Victor, Sanath Nandasiri, Milton Perera, Milton Mallawarachchi, Nanda Malini and Indrani Perera, as well as for young entrants such as Umariya, Meena Prasadini, Theekshana Anuradha, Ajith Bandara and Surendra Perera.
Dr. Ranasinghe leaves behind his wife, son, daughter and grandchildren.