Deal with India, fear not, take a leap: Minister tells professionals
View(s):

The Economic and Technology Cooperation Agreement (ETCA) is only one of several free trade deals the Government is looking at, Development Strategies and International Trade Minister Malik Samarawickrama said in an interview with the Sunday Times. He said such agreements were an essential component of development, particularly employment creation and revenue generation. Excerpts from the interview: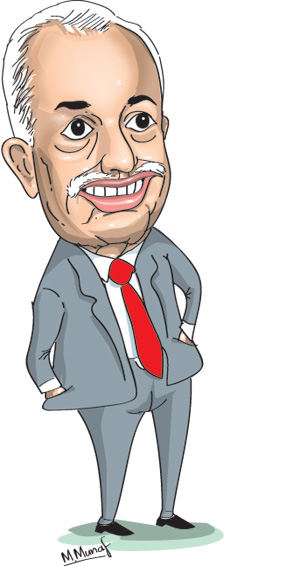 Q: Once the proposed ETCA is signed, what are the practical changes that will take place?
A: There will be more people coming in and setting up factories because they know that they have a market (India). Even the Chinese would prefer us to have a free trade agreement with India so that Chinese companies can set up their factories here, use our labour and then export to India which is a huge market. That market is opening up for them (via Sri Lanka). We will be a hub, in the centre. We can be what Hong Kong is to China or Singapore is to Malaysaia.
Q: Are you concerned about protests against the ETCA?
A: I'm not concerned because there's nothing to protest about. They don't know what's coming in; neither do we know what the final agreement will be. That's a matter to be discussed. The final agreement will be placed before Parliament. It will be open to everybody. I don't think people need to be afraid of this agreement. It will be better for this country. The protests are for political reasons. There are some political parties which feel they will have no place if the country develops. They have always been misleading people to get their votes. If people are happy and have better jobs, they will not be interested in these parties.
Q: Will the Government sign similar agreements with other countries?
A: We are negotiating a Free Trade Agreement with China, we are deepening our agreement with Pakistan, and we are looking at Turkey, Singapore and other countries.
Q: When you say you are deepening Sri Lanka's agreement with Pakistan, do you envisage a deal similar to the ETCA?
A: We are looking at it. We have not discussed the details yet. Maybe some more goods can be opened up. During the visits of Pakistan's Prime Minister and Commerce Minister, they wanted us to deepen the agreement and encourage more trade between the two countries. What we must realise is that ours is a very small market of 20 million people. With that, if we look only inwards, we cannot generate more employment.
Q: Are you saying we have reached saturation point?
A: I think that if we want to create more jobs, better paid jobs, and improve the living standards of our people, then we have to look at the world. China, India and Pakistan give us a market of almost three billion people. We have to look outwards to export our goods. We have to start manufacturing for export. Our export industry has been stagnating. It is worth only US$ 11 billion — hardly anything. When we look at Vietnam, even after the war, it has an export industry worth almost US$ 150 billion. Vietnam is signing an agreement with 12 other countries on the TPP (Trans-Pacific Partnership). That means it can export to all those countries duty free.
Q: The IT industry fears that Indian professionals will flock the Sri Lankan market and take up entry-level jobs.
A: It's not the fear of the industry. The industry is aware of its requirement. It's the fear of the workers. Some people in the industry are supporting this (ETCA) but they want to have some controls regarding salaries, qualifications and issues like that.
When Chinese (companies) developed infrastructure in Sri Lanka, they brought Chinese workers. Everybody working on the port was Chinese; everybody building the roads was Chinese. Nobody objected to it. They work and they go back. But that kind of thing won't happen here. We are also concerned about foreigners flooding this country. It will not happen.
Q: Will the ETCA make Indian jobs available to Sri Lankans?
A: Yes, absolutely. That is why we are saying let us not have restrictions in that sense; that we have some opening so if our people want to go there, they can. There are plenty of jobs. When India opened up under Prime Minister Manmohan Singh, there were protests from big industrialists including the Ambanis and the Mittals. Look where they are now. Ten out of the 100 richest people in the world are Indians because they found they had to make themselves more competitive.
They have acquired big companies in the United States and Europe now. This happened because the economy opened up. I don't think we have to be afraid. But our industrialists need to be more competitive. They will have to learn. Look at the apparel industry. It has not restricted anybody from coming here and now almost 45 percent of our exports are apparels. We want other industries also to come up the same way.
Q: You say the ETCA will encourage foreign companies to invest in Sri Lanka. What is preventing them from doing it now?
A: One is the political climate we had before. Now the climate is changing. We have to ensure that there is sufficient goodwill for them to come. And we must ensure investment protection. All these things will be covered by this economic cooperation agreement.