Pelwatte Dairy helps local dairy farmers to make Sri Lanka self-sufficient in milk
View(s):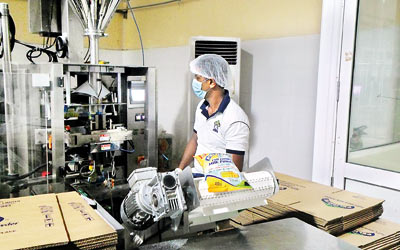 Pelwatte Dairy Industries Ltd, a leading manufacturer of locally produced dairy products, has been supporting a multitude of local dairy farmers for many years. Locally produced full cream milk powder, butter, a variety of yoghurt and ice cream are among the list of products produced at Pelwatte Dairy's ISO 22000: 2005 world food safety certified factory in Buttala.
Speaking on the current situation of the dairy industry in Sri Lanka, Pelwatte Chairman Ariyaseela Wickramanayake said in a media release that, "Sri Lanka has the capability of being self-sufficient in milk production, and Pelwatte Dairy has constantly lobbied for this country to take that step. Our dairy farmers spread around the island produce some of the finest fresh milk in the world and we need to support their industry by purchasing this milk instead of relying on imports".
The company says it supports about 25,000 farmers and their families living around the island. Almost 150,000-200,000 litres of milk are collected per day at collections points situated in close proximity to dairy farming communities, before being transported to the Pelwatte Dairy factory. Stringent quality control measures are in place throughout the entire process of milk collection and production.
Pelwatte full cream milk powder is produced using only locally sourced fresh milk from dairy farmers spread across the Eastern, Uva and Central provinces. Freshness of the milk powder is assured not just by the quality standards adhered to at the production facility, but also by the fact that milk powder is produced within 24 hours of collection time.
Mr. Wickramanayake noted that all the milk and milk-based products are produced using only locally collected fresh milk. "This is why we can guarantee our customers freshness and goodness in every product. We again reiterate that import of milk powder is not a necessity and we need to start promoting our own products while uplifting the standards of our own people"