NDB Bank links up with GVR Lanka to promote Dynasty Residence in Kandy
View(s):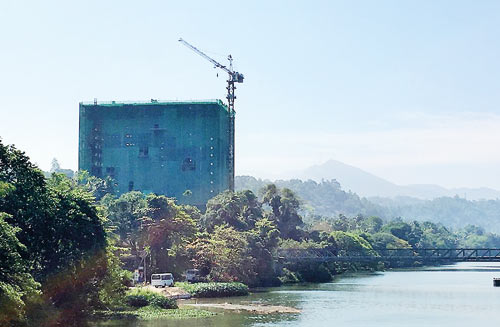 NDB Bank joined hands with GVR Lanka (Pvt) Ltd to promote Dynasty Residence, the luxury apartment project in Kandy, among its premier customers in the Central Province. GVR Lanka and NDB Bank recently hosted an exclusive event for key NDB customers at the Earls Regent, Kandy.  Dynasty Residence is an exclusive development on the banks of the Mahaweli River in the hill capital, situated just minutes away from the proposed Colombo-Kandy highway. The 19 floor superstructure is now complete and NDB Customers had the opportunity of viewing the majestic show apartment during the event, a media release revealed.
The project team and developers of the project have ensured that the project meets the highest environmental standards and is poised to obtain the US Green Building LEEDS rating 'Gold 'Certification., the company said.  The unique design is taken into consideration framing the views of Hantana, Hunnasgiriya knuckles range and the Mahaweli river. It also takes the intelligent use of space into account in order to offer a Sri Lankan and Kandyan living experience.
While the standard apartments in Colombo provide very congested rooms and amenities, this apartment complex has been designed with varied options so customers could select apartments which better suits their needs,GVR Lanka said adding that It comprises of 17 different model options such as; 8 types of three bedroom designs, 4 Penthouses exclusively designed with a personal 'Sky Garden', golf putting course and a tailor-made entertainment facility along with 5 unique Sky Villas designed with double the height for living, dining and balcony facilities along with a view of the river and the magnificent knuckles range that can be enjoyed at all parts of the interior.
With about 42% of the space being built for common amenities which inhabit the first 05 levels, the apartment complex promotes sustainable luxury community living with ample community spaces to interact with other occupants. It has many amenities including a Doctor's examination room, larger parking spaces and ramps along witha 170m long roof top jogging track with viewing decks.  Mahasen Samaravijaya – Founder and Chairman of GVR Lanka, stated that one of his intentions was to have something luxurious, spacious and affordable to offer expatriates, who have been used to such living standards, and attract Sri Lankans who have left the country back to the place they once called home.