360* ELECTRIC programme to support BMW
View(s):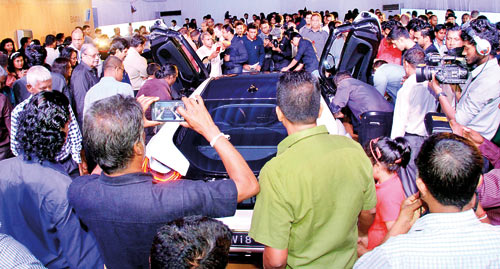 Prestige Automobile, sole representative of BMW in Sri Lanka has introduced BMW i3 – a purpose-built electric vehicle with maximum safety and BMW i8 – the plug-in hybrid sports car to the local market.  Along with the launch of BMW iseries an all-inclusive 360* ELECTRIC programme will be implemented to provide electric charging facilities for BMW i owners. Heinz Reuter, Managing Director of Prestige Automobile told the gathering at the recent BMW i3-i8 launch ceremony in Colombo, "this programme also provides an all-round portfolio of services for electric vehicle or plug-in hybrid owners in the country".
The main feature of this scheme is the home charging facility including the BMW i Wallbox Pure and a basic installation package. The BMW i Wall box Pure is a 230V wall box with a charging power of 3.7 kW and a current strength of 16 amperes. It can fully charge up the BMW i3 in about 6 to 8 hours. The BMW i8, meanwhile, can be fully-charged in just over two hours. Prestige Automobile Pvt Ltd will be working closely with VIDMA Electrical Engineering (Pvt) ltd who will provide BMW i customers in Sri Lanka with charging infrastructure services at their homes or offices, he added.
The company is partnering with Sunrise Engineering (Pvt) Ltd to make available charging facilities in various office buildings, shopping malls, hotels and buildings in Sri Lanka. BMW i has developed customised mobility solutions to cater for the occasional long-distance trips outside of the city. Be it a long weekend getaway or a road trip, customers will be covered under the Flexible Mobility Programme. BMW i customers will be able to enjoy the use of a SIXT rent-a-car with special benefits, including a 50 per cent discount for a total of 5 days in a year.
BMW i has various solutions to ensure confidence in driving either a full-electric vehicle or a plug-in hybrid. Where technical assistance is required when on the road, BMW Roadside Assistance provides the peace of mind that a response specialist will always be available on call, at the push of a button via the iDrive system, to provide round-the-clock service. The BMW i3 is BMW i's first electric vehicle capable of achieving zero tailpipe emissions. The BMW i8 is the first BMW plug-in hybrid sports car built with the revolutionary LifeDrive architecture and advanced lightweight material like CFRP. It features the latest BMW Efficient Dynamics technology.