Promising releases for 2016
By Vinusha Paulraj
View(s):
It's going to be one of those 'keep the pop- corn coming' sort of years. We're about two weeks in to this Year and the scheduled movie releases look promising for those who get excited about catching the latest plots on giant-screen.
Giddy Star Wars fans started us off last year around Christmas, barely keeping it together as the latest film premiered. Get the prawn crackers, stock-up on ginger-beer and read on, so we can tell you when it's your turn to grab tickets.
Eddie the Eagle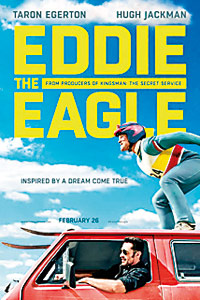 The movie is based on incredible true story of Great Britain's first ski jumper to enter the Winter Olympics. The film stars Taron Egerton as Eddie "The Eagle" Edwards, a British skier who in 1988 became the first competitor to represent Great Britain in Olympic ski jumping.
The film also stars Hugh Jackman and Christopher Walken, with a script by Simon Kelton and Sean Macaulay.The film is scheduled to be released on February 26, 2016, by 20th Century Fox.
Alice Through the Looking Glass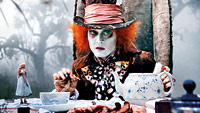 A spin-off from Luis Carroll's original story, Alice Through the Looking Glass is about the protagonist's return to wonderland.
The trailer promises to introduce us to new magical characters in the film's course which tells the tale of Alice's attempt to rescue the Hatter. A Burton-esque touch hasn't escaped the movie for which Tim Burton is among the producers.
Jungle Book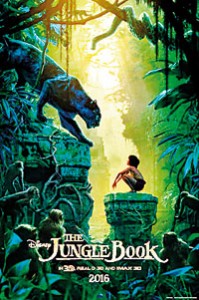 Rudyard Kipling's imagination inspired by his upbringing in India is coming alive onscreen. Bill Murray, Idris Elba, Ben Kingsley, LupitaNyong'o and Scarlett Johansson are voicing the roles of Mowgli's animal friends in a more realistic version of Disney's previous movie.
The film is well on its way to becoming every Disney-buff's bare necessity this May.
Moana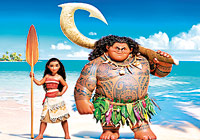 Disney's first Polynesian Princess, Moana is all set to go on a quest this November. The animation is about a daring girl, determined to complete a voyage started by her ancestors.
Captain America: Civil War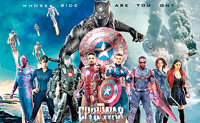 Those who enjoyed The Avengers are antsy with anticipation. Fans are told there's more at risk than just the human race, this time around with the 5 piece team facing a serious threat to their dynamic.
Born of the running tension between Ironman and Captain America, the story which comes out in May is bound to be action-packed.
Deadpool
Based on Marvel's comic book character, the move directed by Tim Miller is scheduled for release in February.
Whether the film will do this persona with super-fast healing powers justice, is too soon to tell but the hype is strong with this one.
Fantastic Beasts and Where to Find Them
The yappy book which had to be stroked before it was opened is hardly a detail to forget in the Harry Potter films. J.K. Rowling's time and devotion to her magical universe saw her penning Fantastic Beasts in 2001 which serves as the basis of this movie.
Those can't get enough of Harry's world will have to wait until later this year for another dowsing of magic. Accio November!
The Secret Life of Pets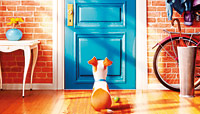 We've all wondered what our dogs, cats or fish are up to when left to themselves. This animated comedy comes bearing answers. Unfortunately, our wait for this film only ends in July.
If you've got a soft-spot for furry four-legged creatures we think you might enjoy this.
Divergent: Allegiant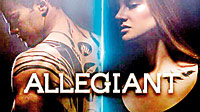 Based on the Divergent Trilogy, by Veronica Roth, Allegiant is the last of the three.
The dystopian conspiracy will end in March when Tris and her friends get to the core reasoning for segregating communities according to their natural aptitudes.
Suicide Squad
Team DC is going dark. Super heroes need villainous foils to kill their time on, and DC Comics is giving us an entire squad. Will Smith, Jared Leto and Cara Delevengne are part of this talent studded film by David Ayer.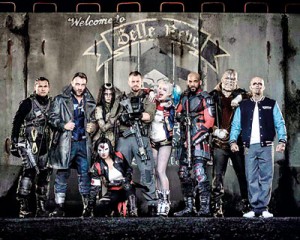 In a plot as twisted as their minds, the story of this group of antiheroes taking-on a fatal mission is to hit screens in August.
Kung Fu Panda 3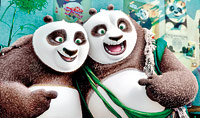 From the house of DreamWorks, comes a sequel to a beloved Panda, Po who learned that he was the fabled 'Dragon Warrior.'
Living up to his fate has been tough enough, but Po now has to inspire an entire village of Pandas to rise valiantly in the face of danger. This film full of fluffy yet lethally hilarious pandas is to come-out later on in January.
Ghostbusters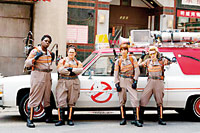 Every 80's kid knows this movie. When it came to light that this year's version is going to feature a team of female 'ghostbusters,' there was a lot of concern in the online community.
Speculation on if the film would have the same impact on the internet were widespread, however it's being sold as a 'supernatural comedy,' coming out in July.
Finding Dory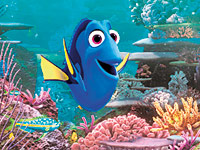 It's been a long wait for the Sequel to finding Nemo. Now, 13 years later the forgetful blue Tang fish voiced by Ellen DeGeneres has finally earned some screen time for her own confused adventure.
The movie is to set sail this June.