Hilton Colombo Residences launched WIP with 'HHonors'
View(s):

Hilton Colombo Residences today announced the launch of Wedding Incentive Plan(WIP) that it will award wedding couples the opportunity to earn Hilton HHonors®.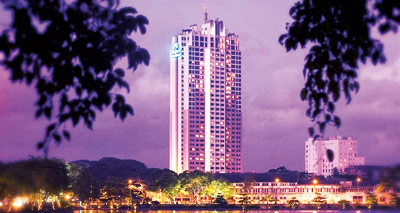 These points can be redeemed for their honeymoon in any of the Hilton Hotels globally who are participating in this offer.
Hilton HHonors is Hilton Worldwide's hotel rewards program that has four tiers based on a guest's loyalty; namely, Blue, Silver, Gold, and Diamond, in ascending order.
Guest in each of these categories is eligible to benefits and also earns free stays based on their points in ten distinct brands within the Hilton Worldwide portfolio.
Launched to drive more wedding banquets into the hotel portfolio, this points system has been extended to weddings where a couple spends a minimum of US$ 5,000 (without taxes) and enjoys an opportunity to earn 50,000 Hilton HHonors® points which can be used in Hilton Colombo Residences or any of its sister hotels.
The process for enrollment is simple, the couple will register as Hilton HHonors® members by the hotel team, and once all payments are finalized, the team will process the points to be earned.
It is advisable to make such payments one month prior to the date of the wedding. Conditions apply.
Hilton Colombo Residences has the contemporary Union Ballroom which was launched in 2012 for wedding receptions that can host up to 850 guests at a time, or can be segregated to host smaller parties of 150 – 250 guests.
Each wedding of 180 guests receives the following complimentary services: A bottle of sparkling wine, day use room for dressing and changing, overnight stay for the bridal couple with complimentary breakfast at the restaurant or from in-room dining, option for an extra night at a special rate, complimentary dinner for bride and groom's parents for (maximum of 6 persons) valid during themed / buffet dinner nights in the restaurant, traditional welcome sweet meat platter, traditional oil lamp, flower arrangements for each table (Candle stand arrangement with fresh flowers, sofa and Coffee table, cake table, bandstand (stage), dance floor and a voucher for dinner for two as you celebrate your first anniversary.
for more details call 'Weddings and Event' team on 0-115-344-644 or e-mail at colomboresidence_event@hilton.com