Cinnamon -HSBC Marco Pierre White Challenge for Sri Lankan culinary enthusiasts
View(s):

The godfather of modern cooking, three Michelin star celebrity chef and Judge of MasterChef Australia, Marco Pierre White will be in Sri Lanka courtesy of Cinnamon Hotels & Resorts in collaboration with the British High Commission and flown courtesy of SriLankan Airlines from 18th to 31st January 2016.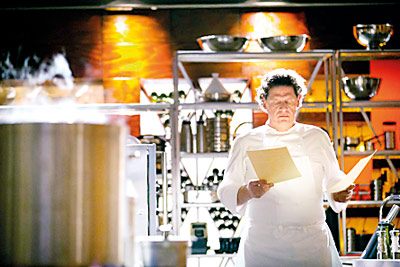 To coincide with his visit, Cinnamon Hotels & Resorts together with HSBC and Knorr Sri Lanka will be organizing a 'cook-off' challenge giving amateur chefs and culinary enthusiasts the opportunity to participate in a MasterChef style competition, and put their culinary skills to the test.
The premise is simple – participants need to construct their very own British dish, be it a starter, main or dessert and stand a chance to spend an entire afternoon cooking for Marco Pierre White as he judges the best dishes.
As such, culinary enthusiasts are encouraged to get into the kitchen and start cooking (preferably while shooting a video of the process) and post a picture with the recipe or a 2-3 minute video on the Cinnamon Marco Pierre White event's Facebook page on or before the 14th of January 2016.
While photos of the finished dish and recipe are also accepted, videos will certainly stand a better chance of being selected for the next round.
The entries will then be judged by a panel consisting of the Sector Head of Cinnamon's city hotels, along with the executive chefs of Cinnamon Grand Colombo, Cinnamon resorts, HSBC, SriLankan Airlines and Knorr Sri Lanka who will go on to shortlist up to twelve semi-finalists for the next round.
The twelve semi-finalists will participate in the Knorr Culinary Challenge, a preliminary cook off where six finalists will be selected by the judges – executive chefs of Cinnamon Grand and Cinnamon Lakeside Colombo, HSBC and Knorr Sri Lanka.
The finalists will also be entitled to a full day mentoring session by the judges, leading up to the finals of the cook-off.
This mentoring session will be a unique opportunity to learn special skills and secrets to cooking that will not only enhance their chances of winning the competition but also develop their overall skills in culinary arts.
The grand finale of the Marco Pierre White Challenge is scheduled for 30th January 2016 at Cinnamon Lakeside Colombo and will be set-up in a MasterChef like setting where finalists will prepare their dishes as a live audience cheers them on.
Participants will be expected to create their own version of a Marco Pierre White mystery recipe that will be handed to them at the beginning of the sessions, preparing it within a stipulated time period.
Marco Pierre White himself will observe the entire process and judge the winning dish based not only on taste, but also on presentation and technicality.
The winner will also be entitled to a certificate signed by the legendary chef himself and the winning dish will go on to be featured in a menu at Cinnamon properties.
Applications for the Cinnamon-HSBC Marco Pierre White challenge ends on 14th January 2016. For more details visit bit.ly/mpwchallenge