Tighten your belts: Veggies will stay pricey
View(s):

Vegetable prices, which have skyrocketed during the past three weeks, are likely to remain high due to short supply, farmers and traders warned.

Adverse weather conditions and the reluctance of farmers to keep growing vegetables at a loss are the main reasons for the shortages.

Rain has affected all main vegetable cultivation areas including Nuwara Eliya, Puttalam, Dambulla and surrounding areas and Jaffna.

In the upcountry, where vegetable cultivation has been popular since the rule of the British, farming no longer generates large incomes.

Crops have plummeted from a normal 80,000kg to 15,000kg in Nuwara Eliya grower Santhiyago Sathyarajan's 50-acre holding.

Carrots are a mainstay but rains ruined the harvest and three-quarters of the crop had to be thrown away, said Mr. Sathyarajan who employs 150 workers.

Another farmer said his previous carrot harvest amounted to 1,000kg but this time he collected only 94kg.

Cabbages are selling at Rs. 175/kg in Nuwara Eliya, leeks at Rs. 120/kg, carrots at Rs. 260/kg, and beetroot at Rs. 170/kg. Farmers said these prices would prevail until the April new year.

"The losses to the farmers will have a bearing on the economy of the farming population," one farmer said.

In Jaffna, the recent heavy rains, pest attacks and increase in prices of fertiliser and pesticides have cut supplies to the markets.

A farmer in Jaffna said misty conditions following rains had affected production. Prices are likely to remain high until March-April, Chamber of Commerce Administrative Officer V. Sridharan said.

He said green chillies were selling at Rs 800-900/kg and brinjals at Rs. 200/kg while the drumstick crop had been sharply reduced after the flowers were destroyed by rain.

In the Dambulla and Puttalam areas, rain has damaged vast extents of vegetable holdings. "In most cases only about 25 per cent of the crop was left behind, causing severe losses to farmers," a farmer in Dambulla, Liyanapatabendi Sirithunga, said.

In areas such as Udawalawe and Embilipitiya farmers said they were moving into other crops. They claimed costs of fertiliser and pesticides for vegetable farming had risen considerably, prompting their decision. Some had turned to cultivating manioc.

As a result, vegetable prices in most markets in Colombo and the suburbs are on the increase, with the average price of a kilo of vegetables standing at Rs. 300.

Reports from: Shelton Hettiarachchi (Nuwara Eliya), Kanchana Kumara Ariyadasa (Dambulla), Hiran Priyankara Jayasinghe (Puttalam) and N. Parameswaran (Jaffna)

Green chillie push to beat rains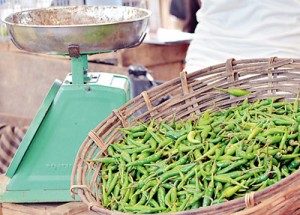 Villages dedicated to green chilli cultivation will be organised to help beat the annual rain-induced shortage in December, with prices shooting up above Rs. 1,000 per kilo in the past month.
The Department of Agriculture is also distributing pots of green chilli culture to help farmers grow the vegetable in the off-season, rain-affected months of June and December, Agricultural Department instructor, S.A. Kalana said.
This move follows an initiative of last year to distribute pots in urban areas for domestic use at discounted rates, he said.
The Department said use of the culture by farmers would avert high prices during the rainy season.
It hopes to produce sufficient dried chillies within Sri Lanka through intensive farming in dedicated villages, the first of which is Kahala, established in the Anuradhapura district last June.
The project is due to be visited by President Maithripala Sirisena coinciding with the anniversary of his first year in office.