Shoppers flood Colombo in the bargain season after New Year
View(s):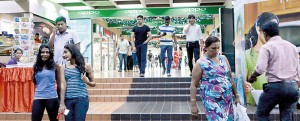 Sri Lankans ushered in the New Year on Friday after a week of frenzied shopping and much revelry. Post new year, shoppers were thronging outlets many of which were offering good bargains with goods going at discounted rates which was an additional attraction for many.
The Sunday Times spoke to a mix of shoppers and managers of shopping malls to get their views on how things fared during the festive season this year compared to last year.
There were mixed reactions with some saying things were better while others said people were being more cautious when parting with their money.
A clothes shop owner Sharmili Dissnayake (28) said there is an increase in peoples spending power this year compared to the previous year and consumers were more willing to spend.
To attract customers, most shops were offering good discounts but not all consumers were pleased with the goods on sale.
In many cases, the discounts were being offered on old stock and products that were specifically brought in for the sales, which may not necessarily be of very good quality, K. Mayuri (20) a shopper at a leading retail shop in Colombo said.
Pavement vendors too had good sales during the period with many people from outstation flooding Colombo to get good bargains.
M. Rasika a housewife from Trincomalee said that the choice and variety of clothes was much wider than in previous years but was costlier too. "I'm happy to come to Colombo to purchase clothes."
A spokesman for a department store in Colombo said most of its customers have an eye for bargains and know they can get a good deal during the year end sales.
The shopping seasons also concluded without any major incidents.
Police spokesperson ASP Ruwan Gunasekera said people were advised to take necessary precautions during the season and be vigilant when in crowded places.