Road deaths reach record high of 2, 700 in 2015
By Anushiya Sathisraja
View(s):
Sri Lanka's roads were deadlier than ever last year, with the highest number of traffic deaths on record. More than 2,700 people were killed in road accidents last year – an increase of more than 300 from 2014.
This means an average of 7.5 people died each day on our roads on average in 2015 – a jump from 6.6.
Nearly 60 per cent of serious accidents are caused by single-vehicle accidents in which heavy vehicles travelling fast crash into a pedestrian or fixed object.
Despite strenuous efforts to curtail accidents, serious mishaps were reported this week, the biggest of them involving a collision at Warakapola in which six people died.
The accident was between a small van packed with 19 people heading from Samanthurai to Colombo and a private bus loaded with pilgrims heading to Somawathiya in Polonnaruwa.
The van passengers had been travelling to the Immigration office to obtain their passports.
Last Saturday, four people in a van were crushed under a tipper carrying a load of sand along the Kandy-Colombo road at Nelundeniya in Warakapola.
In less than 10 years, more than 23,000 people have been killed on Lanka's roads with more than 50,000 sustaining serious injuries, a factor that is pushing up the national health bill.
Police Traffic Chief Deputy Inspector General of Police Amarasiri Senaratne said the packed roads and high incidence of drink driving contributed to accidents.
He criticised the unnecessary use of high-powered headlamps at night. "They can momentarily blind motorists coming from the opposite direction, leading to serious, sometimes even fatal accidents," he said.
DIG Senaratne said the blame could not be solely borne by motorists: the negligence of pedestrians when crossing the road and lethargy on the part of law officers also contributed to accidents.
Some drivers who are not fit to hold driving licences obtain them through illegal means, DIG Senaratne said.
The Secretary of Automobile Association Ceylon (AAC), Dewapriya Hettiarachchi said many inexperienced drivers lacked basic training in driving.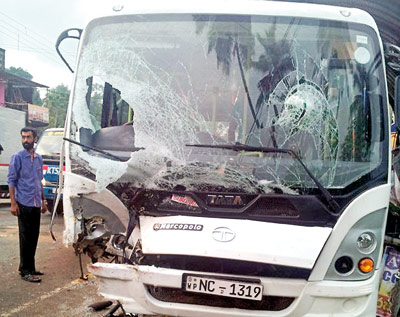 The AAC has a driver training school which offers tutelage to drivers in organisations that have more than 30 drivers, Mr. Hettiarachchi said. "We give them 'defensive training' on how to drive without accidents.
We also go to schools in the city and suburbs to educate children on how to safely travel on the roads when they are unaccompanied," he added.
An analysis of the last year's traffic accident deaths showed that the highest number of fatalities were due to accidents involving motorcycles (1,035 deaths) followed by three-wheelers (363 deaths), lorries (338 deaths) and private buses (220 deaths).
The Western Province heads the list with 750 deaths followed by the North-Western Province (404 deaths) and Southern Province (332 deaths).
Official records show that, 23 per cent of drivers responsible for fatal accidents did not possess valid licences, the worst offenders being motorcycle riders, who made up nearly 49 per cent of that number followed by lorry drivers at 14 per cent and van drivers at 11 per cent.
The Head of the Department of Transport and Logistics Management at the University of Moratuwa, Dr. T. Sivakumar said road design needed improvement, with more thought being given to the accommodation of more vehicles and widening roads than on people's safety.
Lane enforcementworks in the outstations: DIG
The strict implementation of a lane system for motorists in the outstations is helping to reduce accidents and improve road discipline, a senior police officer said.
Deputy Inspector General (Traffic) Amarasiri Senaratne said although the move has slowed down traffic most three-wheeler drivers now do not zig-zag from lane to lane.
The regulations force heavy vehicles, short-distance buses and three-wheelers to use only the left traffic lane. Long-distance buses should use the same lane unless the next lane is free. Other vehicles, including motorcycles, can use any traffic lane.
Those caught using the wrong lane face fines, and cases will be filed against reckless driving. Driving licences may also be suspended.
The strict implementation of the traffic lane system is helping to prevent private bus drivers from cutting across lanes to overtake buses, DIG Senaratne said.
During the festive season from December 22 to New Year's Eve some 95,000 traffic offences were detected islandwide.
Accidents often occurred due to haste by both pedestrians and drivers, he warned.
"On the road, drivers face many simultaneous demands on their attention: pedestrians, traffic light changes and other cars. It's impossible for a driver to focus their full attention on all of these events at once so pedestrians should be careful all the time," Dr. Sivakumar said.
Drivers, on the other hand, needed more awareness of the need to maintain a careful space between their vehicle and others. "When you drive at speed where you can't stop immediately you need to have distance between vehicles," he said.
Drivers who use mobile phones while driving, whether hand-held or hands-free, are four times likely more to meet with accidents, retired traffic DIG Camillus Abeygunawardena said.
Most collisions occurred on A-class roads because they carry mixed traffic. The ex-DIG believes building more highways would prevent fatalities as pedestrians would not be found on such roads.
Mr. Abeygunawardena said many traffic police officers work from 6am to 7-8pm and such long shifts exhausted them and affected their work.
"Traffic police officers should be given two shifts from 6am to 2pm and then from 2pm to 10pm," he pointed out.
Every day more than 10 motor traffic accidents were reported, 45 per cent of them fatal, with one death being reported every four hours. They were mainly caused by reckless driving.
"We need to change the current culture and place more value on human life. The public, insurance companies and law authorities should collaborate and play a more responsible role to minimise the number of road accidents and learn to place more value on human life which is invaluable," Mr. Abeygunawardena said.
12 killed, 150 injured in road mishaps since dawn of the New Year
Police say indiscipline, high speed main reasons 
By Leon Berenger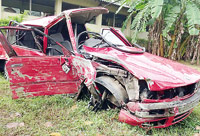 At least a dozen persons were killed and some 150 injured, many seriously, as bloody road accidents continued to mount before and after New Year's Eve, police and hospital officials said.
They said the accidents took place despite repeated warnings, special traffic guidelines, awareness programmes and an increase in the number of policemen on the roads, blaming them on indiscipline in motorists coupled with excessive speed.
During the past 48 hours some 12 persons were reported killed in various parts of the country and the bulk of them were motor and pedal cyclists, according to police.
The most recent accidents were reported from Panchikawatte, Koralawella, Maharagama, Ampara, Buttala, Dambulla, Mannar, Chavakachcheri, and Batticaloa, police added.
At Koralawella in Moratuwa two persons died on the spot and three others were injured when a van crashed into a group of persons who were at a game of cards at a funeral wake during the early hours of yesterday morning, police said.
They added that at a location in Buttala the motor cyclist and his pillion rider were killed when the motor cycle rider apparently lost control of his vehicle moving at high speed and crashed into a wayside lamp post.
At Dambulla two persons were killed and another seriously injured when the car in which they were travelling in went off the road, close to midnight on Friday, police said.
In Mannar two persons including a Samurdhi Officer were killed in separate incidents reported from Vankalai and Adampam also late on Friday night.
According to police the Samurdhi Officer was killed when his motorcycle was hit by a speeding van at Vankalai while the other victim at Adampam died after a motorcycle crashed into his pedal cycle.
Another father of two died in Chavakachcheri after a three-wheeler crashed onto his motorcycle while at the same time at Batticaloa another motorcyclist was killed after he crashed into a wayside post.
Both incidents took place late on Friday night, police said.
In an incident reported from Mangalama in Ampara the driver of a lorry died instantly after his vehicle was hit head on by a speeding privately-owned passenger bus while in Maharagama a three-wheeler driver was killed after a lorry rammed into his vehicle early yesterday, police said.
Some 13 persons were injured when two private passenger buses crashed head on at a location in Panchikahawatte in Maradana on Friday afternoon.
According to police the incident took place after one bus was attempting to overtake the other moving at high speed and in congested traffic conditions.
Meanwhile according to hospital officials more than 150 persons are currently being treated for injuries caused by road accidents.