Resolve to stand on your own feet this New Year
View(s):

The unmarried are called singles in our society. Single or married, no one is alone in our society. We have our parents, children, siblings, friends and relatives to keep us company. But one must not forget that we are on our own. If one needs a heart transplant, two people will come forward to donate it. They are our parents. Their love is great. Animals and even poisonous snakes take care of their little ones with care and affection.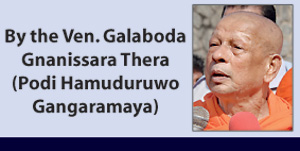 I had the privilege of going to Australia and watching penguins. I observed them for a long time. I was in tears when I saw thousands of penguins taking care of their own little ones, feeding them and taking them to their 'homes'. I was surprised to note how these penguins protect their little ones. I got reminded of children getting lost at a perahera or a similar event. All animals protect their little ones in the same way.
Take the case of the bee. The queen bee has full control of all the bees in her hive. It is the same with dogs, horses and any other animal. In animal communities, there are leaders to lead. Leadership is respected. But is it happening among humans? We may have to reflect on this as we welcome a New Year. Who is the authority who commands respect at home or at our places of work? If we do not respect this authority, there is no order.
Children do not respect parental authority. Even in the case of married couples, it is the same, irrespective of ethnicity or religion. The wife will complain about the husband and vice versa. This happens even in European societies. But in European countries marriage is not restricted to documents but proper living together is encouraged after a brief period of coming together. In Sri Lanka, our culture is different. In the past the marital vows were rarely broken. Children born were not thrown on the street or in the dustbin. But today we hear such things regularly. We should be ashamed of these inhuman acts, which indicate that animals are better than us.
Animals respect the norms of nature, but we humans fall short of many things. Today many have become lonely, aggressive due to their lack of commitment to duty, and have little patience or forbearance. If these qualities are developed there cannot be ill-will between parents and children and between married couples.
Lord Buddha in the Sigalovada Sutta preached about the duties of everyone. Those who are doing their duty need not practise the each-one-for-himself philosophy. They are never alone. But the majority are not doing their duty by the others and are evil minded. They only have themselves to blame and must look after their own safety.
When we are beginning a New Year it is good to reflect on these, understand our weaknesses and plus points and take necessary action. Then we will know whether we are good or bad. The good people will not be affected even if they are surrounded by deadly evil. We are living amongst evil people and we may not trust anyone. Lord Buddha preached in 'Viswasa Parama Gnathi' that a good relative is Trust. This relative called Trust has no caste, does not belong to a particular region, country or even a political party. So from the beginning of the year we must cultivate Trust in us. Husbands and wives must trust each other. Trust parents.
Trust the employer at the place of work. Trust the relatives and friends, the teachers and brothers and sisters. Do your duty accordingly. To begin with, trust in yourself. Resolve to abstain from alcohol and from all evil deeds. Resolve not to be jealous of others, and not to resort to revenge and anger. Those who cultivate these mental strengths need no one to help them along. We place our hands and head on the Bodhiya, venerate keeping our head on the sand to drive away fear and embrace peace. Those who are reluctant to help the neighbour do the same asking for help. But if such persons are cruel, inhuman and evil, no good will come on them. However much one places golden necklaces on the divine images, bathe the Bodhiya with milk, decorate the Bodhiya with flags, these acts won't bring good results. One has to be pure at heart in doing so. Then they will bring good results. You may try this in the New Year.
The Gangaramaya temple has a many-centuries-old bronze statue of Mahamaya Devi with Prince Sidhdhartha on her lap. Parents with disobedient children and childless couples come and ask for relief at her feet keeping a young coconut sapling or a nut.
Their wishes are granted. Even the Gangaramaya Bodhiya is powerful and grants requests. Those who come to worship at these sites during the first week of 2016 will receive from me a sacred 'pirith nool', Seevali Yantra and a coin. I continue this practice even at the Sinhala New Year season. I am informing this not for any publicity but to make people visit their temples, churches, mosques or kovil and obtain the blessings for the New Year for a change of heart.
Let the New Year bring in prosperity and good health to all.