Randeniya to contest for BASL secretary post
View(s):

Amal Randeniya, the Colombo Law Society's former president, is to contest for the post of Secretary at the Bar Association of Sri Lanka elections which will be held in February.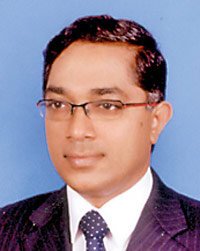 The returning officer for the elections will be the Solicitor General of Sri Lanka.
Mr. Randeniya has held various positions in the BASL since 1998. He was also the chief organiser of the National Law Week of 2015 and the president of the National Law Conference 2014.
He was a member of the Executive Committee of the BASL for Colombo zone in 2013 and 2014. He was the main organiser of the third South Asia Judicial Round Table on Environmental Justice held in Colombo in 2014.
Mr. Randeniya's supporters say he has always tried to maintain professionalism in the Bar and has been committed towards the welfare of junior lawyers.
He was the convener of the Junior Bar Committee of the BASL in 2001, 2004 and 2012 and the president of the Junior National Law conference in 2002.
The incumbent secretary completes his two-year tenure in March.