Despite efforts of the WLD the human-elephant conflict continues to take its toll
By Hiran Priyankara Jayasinghe (Puttalam)
View(s):
In an effort to minimise the damage caused by the human-elephant conflict in the Puttalam District, of the North Western Province, the Department of Wildlife has put into operation a number of measures to assist the people.
The conflict has caused extensive damage to cultivation and killed a number of villagers during the past year alone -this despite civil defense officials and the police providing explosives to villagers living in the vicinity of the forests to keep elephants at bay.
As the electrified fence at Sellan Kanda in Puttalam has not been functioning for some time, civil defence authorities are forced to chase away baby elephants that tend to wander into villages, back to the national park.
Statistics reveal that during 2015, 15 people fell victim to wild elephant attacks. Twenty elephants too were killed by villagers during the same period.
It is also claimed that around ten thousand coconut trees, numerous other crops, around 300 acres cultivable land and 50 housing units have been destroyed by marauding elephants. At least another 20 people have sustained serious injuries in elephant attacks.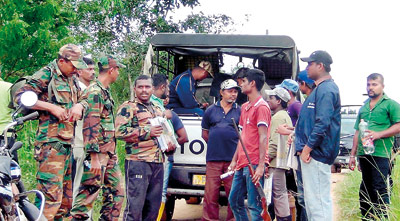 The recent rains experienced in the NWP have made the task of keeping the elephants away doubly difficult. At the same time a fear psychosis is building up among villagers who have noticed a herd of around 30 elephants in the vicinity.
Large-scale deforestation of areas inhabited by elephants has led to the pachyderms straying into human habitations in a desperate search for food.
The dumping of garbage at the edge of forests too, has been a contributory factor for elephants straying out of their traditional feeding grounds.
The areas facing the greatest dangers include the Puttalam area, Anamaduwa, Nawagathegama, Wanathawilluwa, Mahakumbukkadawala, Pallama, Arachchikattuwa and the Karuwelagaswewa Pradeshiya Sabha areas.