Bright sparks run bike-parks for train commuters
By Leon Berenger
View(s):
Housewives, pensioners, widows and others living alongside railway stations now earn a decent income by converting their home compounds into motorcycle parks for train commuters, most of whom are office workers.
For a fee, they look after commuters' motorcycles until they return later in the day, or in some cases day or days after. The business in some areas is so lucrative that some operate bike parks in rented out places.
Their customers are from interior villages, several kilometres away from the railway station. In most cases, public transport to the villages is rare or not available, especially after dusk.
So motorbikes and scooters are the easy and the fastest mode of transport to make it to the station on time.
Bike park operators told the Sunday Times that theirs was a full-time job where time to relax was limited while they need to be alert throughout the day because it was their responsibility to safeguard the vehicles.
Rita Bernadette has been in the business for the past three years operating on space rented out by the Railway Department at a location adjoining the Ragama Railway Station.
"It is a dusk-to-dawn job. I have two persons on my payroll — a night watchman and an attendant in the day, besides myself and my husband," she said.
Ms. Bernadette had a plant nursery before she ventured into the bike-park business after a flash flood three years ago inundated most of the main Ragama Town and destroyed her nursery.
"I suffered a loss of Rs. 300,000 because of the flood. With no other available option to earn an income, the idea of keeping bikes for a fee cropped up and that is where we are today," she said.
Unlike the others Ms. Bernadette, who is also a part-time real estate broker, has added a touch of professionalism into her operation. She issues tickets to customers and maintains a monthly payment card for regulars.
Her day begins at 4 a.m. that is when the first train is due to arrive at the Ragama station and ends at 10 p.m. that is when the last rider leaves the park.
There are also days that some bike owners do not show up. This has made her to employ a watchman at Rs. 500 a night in addition to dinner.
"Daily, some 150 bikes are parked in my compound and I charge Rs. 30 a day from a customer. If the customer is a regular, I charge Rs. 300 a month and they are provided a card for this purpose.
She pays an annual rent of Rs. 250,000 to the Railways Department in addition to some other costs.
Ms. Bernadette says her bike-park business is on a smooth track though in the early days of her business some area goons tried to extort money — a problem which she has since sorted out with the help of police.
Jude Nishantha, an accountant at a private firm in Ratmalana, is a regular to her park and is much grateful for the service rendered by Ms. Bernadette.
"I live some four kilometres from the station and I come to the station in my bike since there is no public transport from my village. Then there are also days that I get late to come back, but I am consoled that the bike is safe," Mr. Nishantha said.
Also in the bike-park business are an elderly couple, Nancy Silva and Walter Fernando both pensioners and in their seventies. They operate the home-garden-turned-park near the Seeduwa railway station.
But unlike Ms. Bernadette's park, which is open throughout the year, the couple put up shutters on Poya Day and Sundays. They get some 75 bike customers a day.
Another bike-park businesswoman is Dalrene Sandya, a 45-year-old single mother of two daughters. She lost her husband several years ago and now maintains a bike-park near the Ja-ela railway station.
She says it is a full time job and at any given moment of the day and someone has to stay at home. Till the last customer comes to collect his bike around 11.30 pm, the lights must stay on, she adds.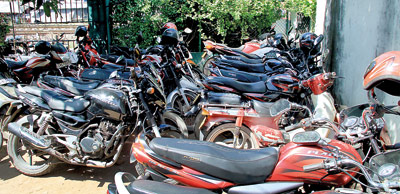 One of her daughters is employed at a private firm while the other attends school. So the responsibility of running the park rests on her.
She too, charges Rs. 30 per day from a customer while regulars pay between Rs. 300 and 500 a month. Except for a loss of a crash helmet, none of the bike keepers has experienced a serious theft like a bike, she says.
But what is going unnoticed by relevant authorities is their contribution to reduce traffic congestion. They prevent thousands of bikes from entering the city and other major towns.
Their service is in line with the Government's traffic-control proposal to set up mega vehicle parks at entry points to the city.