Ruwini, the sharp shooter from Lellopitiya
By Lakshman Ranasinghe
View(s):
A playful looking girl was seen loitering around the Hidellana Sivali College grounds, showing a great interest in sports. Hailing from Lellopitiya, a hamlet in the Ratnapura area, this lass later became a national figure in shooting.
She is Ruwini Abeymanne, a silver medalist at the 8th Asian Air Rifle Gun Champi0nship team event in Inda. At Sivali Vidyalaya Riwini took part in Gymnastics, Athletics and Basketball, and was member of the teams that won championships in All Island competitions.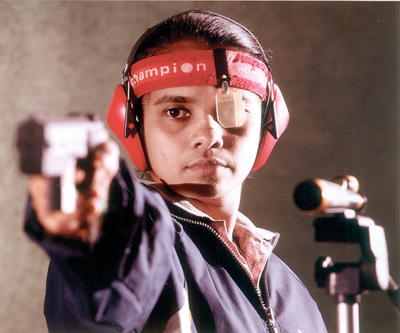 After leaving school she joined the Women's Corp of the Sri Lanka Army. In the Army too, Ruwini took part in the same sports she participated at school level. She was the goalkeeper of the Army Hockey team that won the national championship.
This former Seevali Vidyalaya girl's interest in shooting was spotted by the Army authorities and she was sent to Diyatalawa to train with the Army Sniper team.
Being a left hander, she was asked to train to handle the pistol with the right hand, and was given two weeks to shoot right handed.
Ruwini took up the challenge and participated in the National Practical Pistol Shooting competition finishing third. Though she took part in shooting, Ruwini never lost touch with Basketball, Athletics and Gymnastics, representing Army in various championships.
Leaving the Army, Ruwini joined SriLankan Airlines, and is presently attached to MAS Intimates since 2001. As a pistol shooter in her debut for Sri Lanka at the 1995 SAF Games, she won a bronze and two silver medals.
This girl from the calm and quiet village of Lellopitiya has participated at international championships at SAF Games, SAF Shooting Championships, Commonwealth Shooting Championships and at the South African Metallic Silhouette championship, winning 7 gold, 14 silver and 7 bronze medals for the country.
In 2000, she took part at the Sydney Olympic Games. Ruwini has won the national shooting championship 35 times, establishing 15 records.
Speaking to the Sunday Times Ruwini said, "Sri Lanka's shooters show a high standard even with the limited resources they have.
If they are fortunate to have modern equipment with the latest technology, this little island is sure to be at the highest position in world shooting.
She also pointed out with her experience of over 20 years in shooting that Sri Lanka was on par with most Asian countries, and had even beaten them in the past.
At present, with the use of modern equipment they have overtaken us. In 1998, when Mali Pushpamali won a Gold medal at the Commonwealth Games in Canada, every Asian country realised that Asians are capable of winning internationally.
From that point onwards they introduced long term plans in organising provincial tournaments and introduced new Electronic Target System and recruited foreign coaches.
"The pistol I still use is more than 20 years old. At international meets competitors have the latest equipment to suit every event that they take part.
At practices, foreign competitors use about 100 to 150 rounds of ammunition a day," stated Ruwini
Ruwini said that she can afford to buy only about 400 rounds per year from her expenses.
"The Sri Lanka team never gets a chance to practice together, due to the unavailability of an official firing range," she pointed out while paying her tribute to her boss Dian Gomes for providing a makeshift fire range at the work place in Pannala.
In conclusion, Ruwini said that her goal and that of the other Lankan shooters is to lift Sri Lanka to the highest position in world shooting.
She thanked the Principal Mr. Gunatilaka, the Master of Discipline, Mr Kehelgamuwa and Malini Satharasinghe of Seevali Vidyalaya, Major Kamal Hathamuna, Brig. Ananda Chandrasiri and Col. Lucky Rajasinghe of the Sri Lanka Army for lending their support to reach the position she occupies presently.
She also paid a special tribute to Dian Gomes of MAS Intimates for providing her every facility and encouragement in her pursuits.