Punish crooked coaches and save cricket's tomorrow
View(s):

This was the original thought first recorded by James Orchard Halliwell in the 1840s and gained popularity in the early twentieth century."There was a crooked man, and he walked a crooked mile.
He found a crooked sixpence upon a crooked stile.
He bought a crooked cat, which caught a crooked mouse,
And they all lived together in a little crooked house."

This is my view of the parlous state of affairs of the system that produces tweekers with unyielding bowling actions in this country and thus does more damage to the game of cricket than not. Let me underline my thought in this manner:
"There was a little bowler, who bowled a crooked ball
Which won him many matches in a mighty crooked style?

The crooked coach said aye…aye
The match man said let's play the game
And they all were caught by the cricket's hang man and never bowled again"
The latest high profile victim of this erroneous belief in deception as a useable commodity is young Tharindu Kaushal who was reported for suspected illegal bowling action by the ICC.

In the aftermath of the episode, the International Cricket Council announced that off spinner Kaushal was permitted to continue to bowl his stock delivery (off-break) in international cricket following an independent assessment of his action, which took place at the Sri Ramachandra University in Chennai earlier this month. The ICC said in a statement:

"During the third Test between Sri Lanka and India at SSC from the August 28 to September 1, 2015, Tharindu Kaushal was reported for a suspect bowling action.
"Keeping in line with the accepted ICC regulations for the review of bowlers reported with suspected illegal bowling action, Kaushal was required to submit to an independent analysis of his bowling action. The examination was undertaken by Dr. Anees Sayed and his team of SRU Chennai.

"In his report Dr. Anees has concluded that Kaushal's stock off-spin delivery was within the 15º level of tolerance permitted in the ICC regulations and is a legal action and Kaushal's Doosra exceeded the 15º level of tolerance permitted in the ICC regulations and is an illegal action.
"Therefore, in line with 2.2.11 of the regulations, Kaushal's off-spin is legal and it is permitted to be bowled in international cricket. Kaushal's Doosra is illegal and should not be bowled in international cricket until such time as he has submitted to a fresh independent analysis.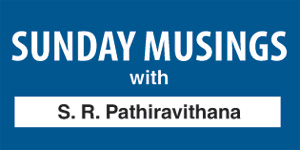 "Sri Lanka Cricket is committed to making every effort to assist Kaushal in taking corrective measures to permit him at a future date, to bowl without restriction in the international arena. To achieve this end, the Coaching Department of SLC has confirmed that their staff will spend extra hours with Kaushal, studying his action and also the available video evidence, to achieve this end within the shortest possible time frame."
Now the question is: Did anyone in the system even have an iota of suspicion that the bowler's doosra was faulty and he kept indulging in this practice unheeded.
After the horse ran away with the doosra of P.H.T. Kaushal, the system is now trying to bolt the stable. Now they are trying to work extra hours on the beleaguered bowler's deliveries and trying to make amends.
It is a well-known fact that Kaushal comes from a small beginning, which is not a demerit at all in any level of cricket. But, the problem arises once a snag of this magnitude comes into light at the early stage of his international career. Then how would it affect his mentally? Now the challenge before the system is to moot a way of nursing this young lad back into international contention.
The next question is: How long will it take for that young lad to come back to the battle-worthy state? Would it be at the cost of the series against the West Indies? I am sure that Kaushal would have been among the wickets only with his off spinner and other legal deliveries.
As a matter of fact, Kaushal need not have bowled his doosra. That is not his stock-ball and the majority of his wickets have been taken with his off spinners. For Kaushal the doosra was only a variation. In that background it is inexcusable that Kaushal had persisted with that delivery and exposed him to get black marked by the ICC.
The whole cricketing world is aware that the ICC takes a dim view on illegal bowling action and it has zero tolerance for that. Australia officials banned the usage of the doosra way back in 2009. It is also said that English cricket thinktank also very cautious about the 'doosra'.
However, in India there is a system that we could well emulate. In India the umpires are encouraged to take a very dim view of bowlers with quirky bowling actions. If a bowler is found bending his arm from the very young age, the bowler will be banned from operating further and also the coach of that bowler is imposed heavy fines. As a result they say that there are no young bowlers with quirky actions coming into the system.
It is no secret that illegal deliveries have been tolerated in this country for a long time and there even have been occasions that certain captains and the whole allied machinery not only have tolerated but taken steps to include such bowlers in the playing eleven at international level. In that era those captains did have the opportunity of getting away with such schemes which were not scrutinised in a systematic manner by the ICC.
However the sad part is such illegal actions have been taken for granted in the schools arena in Sri Lanka. For instance, for some school coaches all what they need is to win the match so that his job is secure. For that coach, it does not matter if these bowlers with suspect action move into the higher levels or are in line for national recognition.
The only spinner that that is worth his salt in the present context internationally is P.H.T. Kaushal. Mind you he was about to join ranks with legendary Rangana Herath and fine-tune his skills in the allied status.
In the recent past, we have come across spinners raking in wickets by the hundreds in the schools arena. But, in the first whiff of international exposure, their careers are shortened. The result is a useless commodity. After such a lot of investment, the bowler is useless for international cricket. Then just imagine the number of hours that the poor lads have wasted in pursuance of a cricketing career at the cost of his academic activities.
In recent times bowlers such as T.K. Tyronne, Rushan Jaleel and so many others are lost causes in international cricket. For me it is tantamount to intellectual murder which should be a punishable offence; the coaches should have known better.
Now young Ryan Sayer is blossoming out after a few initial hiccups. We need them in the system for the sake of the game that we all love and enjoy so much.
We do believe that the systems are afoot to combat that folly. But, at the same time knowingly or unknowingly more and more coaches keep encouraging young bowlers to bend their arm for undue advantage. When would that crime end? How will we pay the ferryman?