One new Asian, 17 games records and two equalled this year army Para Games
By Lakshman Ranasinghe
View(s):
One new Asian Para Games record and seventeen games records were established in different event categories along with two equaled records highlighted the Sri Lanka Army Para Games 2015 which drew to a close on an impressive note at the Mahinda Rajapaksa International Stadium, Diyagama recently.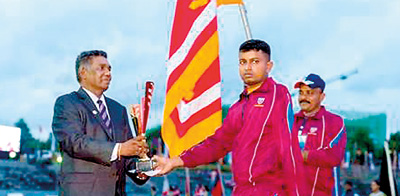 Over 450 athletes local and foreign took part in this meet where Sri Lanka Light Infantry emerged champions with 527 points while Gajaba Regiment with 480 points and Gamunu Watch with 353 points occupied the second and third places respectively.
The Army Para Games, now an annual feature in the Army sports calendar has emerged to be one of the much awaited and promising events among sports lovers. This annual event is a tribute paid to the brave sons of Lanka who sacrificed their limbs, shed blood and sweat for the liberation of the motherland.
This year's event will be memorable for Sgt. Y.P.A.P. Jayalath of the Commando Regiment for his establishment of the new Asian record in the 200m track event with timing of 23.3secs.to lower the record held by a Japanese athlete with a time of 25.8 secs. Jayalath also set a new record in the 100m with a time of 12.89secs.
Athletes from India, Pakistan, Indonesia, Malaysia and Nepal took part in the competition with Malaysian Eryanto Bin Bahtiar won the long jump event while Indian Gunasekaran Anandan timed 24.60secs to win the 200mts.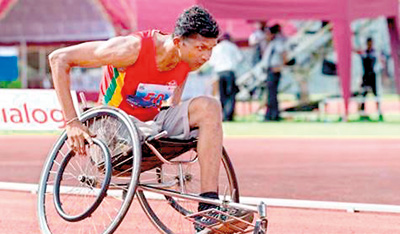 Following Regimental athletes established records:
Sri Lanka Light Infantry:
Cpl. B.B.C.K. Karunatileke – Shot Putt (10.73M), W/O II W.A.M.K. Fernando – Javelin (44.61m), Cpl. Madurawa – Discus (31.75m), L/Cpl. D.K. Sampath Prasanna – Putt Shot (9.67m), Cpl. S.O.M.G. Sanjeewa – High jump (1.6m)Gaja Regiment:
Cpl. A.M. Gunaratne – 200m (26.1secs).
Gamunu Watch:
Cpl. D.H.I.H. De Silva – 100m (11.9 secs) and 400m (55.30secs) and 400m (55.30secs)
Special Forces:
Cpl. M.R. Ratnayake – 200m (46.8secs), Cpl. A.S. Hettiarachchi – Long Jump (6.35m)
Sinha Regiment:
L/Cpl. D.S. Wijesekera – Discus (25.76mts), Cpl. M.D.G.S. Karunaratne – 200m (38.3secs) and 100m (13.05secs), W/O II U.P.P. Sanjaya – 800m (21:05.1secs)
Vijayaba Infantry:
Sgt. U.M.R. Pushpakumara – Javelin (24.85mts), Cpl. M.A.T. Ajith Kumara – Long Jump (5.30mts), Sgt. W.S.W. Perera – Long Jump (5.70mts), L/Cpl. M.G.D. Abeydasa – 400m (52.86secs)
Commando Regiment:
Y.P.A.P. Jayalath – 200m (25.3) * New Asian record and 100m (12.89secs)