Johnians hold out boldly
Under 19 Cricket
View(s):
Jeni Flemin Sebamalapillai along with Jathushan Vasanthan and Kishanthujan Jeyakumar put up heroic as the trio denied Royal Colombo from gaining an outright win in the Under 19 inter-school cricket encounter played at St John's ground in Jaffna.Jeni Flemin cracked a 65 as he along with Kishanthujan partnered in a match saving 90 runs for the fourth wicket when the side was once reeling at 20 for 3 after they were set a victory target of 261.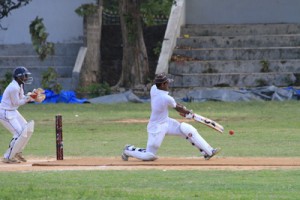 After the initial stand of 90 runs Jathushan Vasanthan who made an unbeaten half ton frustrated the Royal bowlers to help the Johnians force a draw. The opening day's play saw Royal being restricted the Johnians bowling trio of Jathushan Vasanthan, Nilojan Mahalingam and Kapilraj Kanagaratnam who together shared the ten wickets to restrict the home team for a score of 146.
But Royal fought back as Himesh Ramanayake who ended with a five wicket haul combined with skipper Geeshanth Panditharatne and Lasith Embuldeniya to bundle out the home team for a paltry 81.
Royal batting the second time going in quick runs was spearheaded by Thiran Dhanapala who made a 65, supported by Helitha Vithanage (47) Geeshanth Panditharatne (38) enabling them make 195 for 6 declared.Royal Colombo 146 (Renuka Jayawardena 42, Ganith Sandeepa 21, Naveen Vidanapathirana 18, Himesh Ramanayake 17 n.o.: Jathushan Vasanthan 4 for 34, Nilojan Mahalingam 4 for 43, Kapilraj Kanagaratnam 2 for 40) and 195 for 6 declared (Thiran Dhanapala 65, Helitha Vithanage 47, Geeshanth Panditharatne 38)
St John's Jaffna 81 (Nilojan Mahalingam 22, Jathushan Vasanthan 14, Ghanamirthan Arulanantham 14: Himesh Ramanayake 5 for 17, Geeshanth Panditharatne 2 for 11, Lasith Embuldeniya 2 for 34) and 211 for 8 (Jeni Flemin Sebamalapillai 65, Kishanthujan Jeyakumar 37, Nilojan Mahalingam 18, Jathushan Vasanthan 50 n.o.: Lasith Embuldeniya 3 for 88, Malith Kariyawasam 2 for 34, Ganith Sandeepa 2 for 49)