'Wasteland'- multi-awarded documentary at SLF monthly screening
Art as Garbage and garbage as art
View(s):
One of the most inspiring documentary films ever made in world cinema history 'Waste Land', 2010 British-Brazilian documentary film directed by Lucy Walker will be screened at 4 pm on October 8 at Sri Lanka Foundation, Colombo 7.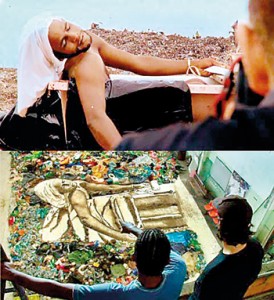 Shown as a monthly documentary screening, the film will start with an introductory talk on the topic 'Art as Garbage and Garbage as Art' by Prof. Sarath Chandrajeewa and is moderated by filmmaker Sudath Mahadivulwewa.
In this uplifting feature documentary highlighting the transformative power of art and the beauty of the human spirit, top selling contemporary artist Vik Muniz takes the viewer on an emotional journey from Jardim Gramacho, the world's largest landfill on the outskirts of Rio de Janeiro, to the heights of international art stardom.
Vik collaborates with the brilliant catadores, pickers of recyclable materials, true Shakespearean characters who live and work in the garbage quoting Machiavelli and showing us how to recycle ourselves.
The catadores work in a co-operative founded and led by Sebastião Carlos Dos Santos, the ACAMJG, or Association of Pickers of Jardim Gramacho, who dreamed of improving life for his community.
The money created by the selling of the artworks was given back to the catadores and the ACAMJG, as well as the prize money from the film awards, in order to help the catadores and their community.
Premiered at the 2010 Sundance Film Festival, the film went on to be nominated for the Academy Award for Best Documentary Feature, as well as won over 50 other film awards including the International Documentary Association's Best Documentary Award.