The artificial beach
View(s):

For them, the young growing up children who had just started seeing the world, it was simply another spectacular sight. They were both fourteen years old and had started noticing each other.

They stood side by side, only an arm's length separating them. Dilan, in his bright orange t-shirt and beige pants, pretending not to notice her, whereas the girl, Thilini, in her bright pink frock stood beside him, smiling and watching the wet sand coming through the long black tube and being flattened on the surface, creating the artificial beach.

They stood as though they were unaware of each other's presence. In fact, it was the only way to enjoy each other's company as their parents, cousins and siblings surrounded them, walking and laughing all over the beach.

He glanced at her for a second and moved closer.
"Can you see that?"he asked her.
"What?"
"It's a big conch."

The round bellied Portuguese who had undertaken the contract of making this artificial beach, blew the whistle angrily, as a thin boy jumped at the pipe to collect the conch.

"Do you want one? To take when you go . . . to Italy?"
"No."
"Then, what is it?"
"I just want you to see that. It's beautiful. I mean, it's white and beautiful."
"Oh! You like white then?"
"Yes."

It was getting darker and colder. They could hear the waves crashing on the new beach and hundreds of people talking and laughing, watching the huge ship which floated on the sea, half a kilo metre away, digging the calm sea bed and sending all the sand to the land through the black tube.

"There will be a big beach here. Don't you think so?"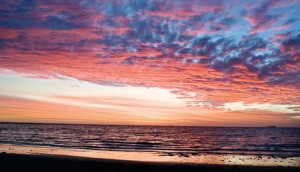 "Yes."
"Then we can play elle."
"Hmm."
Just then, his little sister came running with a packet of fried dhal. It was about to finish. He gave her some, had the rest for himself, and put the polythene cover in his pocket.
"Hey, akke, come here. There are some nice sea shells. Let's pick them up," screamed the little girl, overjoyed.
Thilini ran with the girl, leaving him behind. There she found a small pink sea shell, with a rare shape and colour. A few minutes later, she found him close again, picking up fresh sea shells.
"Look what I've found," she told him.
He came to her, took the shell in his hand and caressed it.
"A rare colour, isn't it?"
"Yes,"
Another month of piping sand, the new beach was glistening gold in the evening sunlight. No more sea erosion, no more misery to the houses along the beach. The day before his departure, they were on the new beach again, playing, munching snacks and wading in the sea.
As usual, he stood beside her, a distance of an arm's length separating them.
"Oh! The beach is so beautiful!" She uttered merrily.
"Of course."
"It's so clean you see, not like those days. I like it this way. Wish it'd be like this forever."
He didn't say anything. He was silent and his eyes were twinkling as though he was about to cry.
That night, he went without a word to her. They didn't face each other because the separation was too painful.
In his absence, the newly made beach was washed away as soon as the monsoon arrived. The golden sand turned black and the people were miserable again, moaning about the government's hopeless strategies that couldn't protect their houses.
Whenever she saw the beach, she remembered those golden days when the beach was much bigger, fresher and cleaner. Where's that excitement now? Everything was gone just like Dilan himself. But she wished to see him again.
He did come after seven years, changed incredibly. He was tall, fat and huge. Several thick gold necklaces were hanging around his neck and an earring in his left ear, a total contrast to her simplicity of a local university student. While greeting him for the first time, she tried to look happier and more confident.
That evening, when their families went to the beach together, they were munching peanuts as usual. She tried to walk beside him but he took no notice of her, as he was busy talking to someone in Italian on his phone.
This is a very sensitively written story, with effective symbolization, speaking about the process of growing up, loss, change and the price of losing one's roots.

Please send your Flash Fiction contributions to Madhubashini Dissanayake-Ratnayake, C/o The Sunday Times, No 8, Hunupitiya Cross Road, Colombo 2
When he saw the beach, he ran madly, hooting and tearing at the empty peanut bag and dancing. Pieces of polythene were scattering all over the beach as he mocked at the sign board "Let's protect Nature" and scratched away the word 'protect', replacing it with 'destroy'.
Looking at him, she wished that his country was only a country of dreams. As the sun sank behind the horizon, she shed a silent tear for the boy who had left, never to return.
Nirukshi Fernando