Looking beyond what you see
Young artist Dinusha's fascination with metaphysics is visible in his upcoming exhibition
View(s):
Young artist Dinusha Uthpala Upasena will hold an exhibition of his work on October 10 and 11 at the Lionel Wendt gallery. An artist who openly acknowledges his fascination with philosophy, his current exhibition is a dive into the area of Metaphysics-that which talks about life and existence.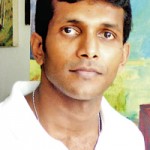 Dinusha's professed aim is to make the viewer think-to engage his intellect. Not satisfied with confining himself to practising art as learnt in art schools, he finds it necessary to go deeper into issues like what motivates artists and the very nature of existence.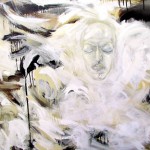 The artist says his work is an attempt to go beyond or move beyond the world as we experience it through sensory perception and to dive into the realm of speculation and, by doing so, to try and attain a spiritual understanding of the noumenal world that lies behind phenomena.
This may also be termed as an attempt to go beyond the confines of art and religion.
"A world consisting of fantasies is created both within consciousness and within space as a result of the Negativity that exists in the Absolute Spirit. These objects may manifest themselves in front of us either as spiritual or in the object spirit forms.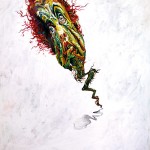 One continuously ventures out through these fantasies. Initially viewed the Objective World and Objective Spirit create various forms of confusion and fear. At times this world laughs at me. At times it leads me into various conflicts. It creates various images.
"However since we do not possess the quality or ability of self-consciousness we fail to realize that this world about which we entertain feelings of alienation is in fact a projection of our inner selves-our souls.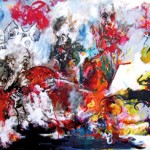 "My effort in all of this is to leave the path or process of evolution that we seem to follow and to attempt an evolution (or a revolution) in the consciousness or the mind.
Through this I expect to re-absorb this objective world, freeing myself of the alienation that I feel about it and thus, attain a state of self-consciousness," he says.