How to dress when petite?
By Arundathi Yasok
View(s):
If you ever felt that being shorter than average stands in your way of looking absolutely fabulous, think again! While actual growth is out of the question, this article shows you how to help you appear taller & leaner in your appearance.
It also draws examples from a few of your beloved celebrities who sometimes fall in to this category but always look absolutely stunning. Read on to discover these tips and good luck to all the lovely petite women out there.
The writer of this column is a young entrepreneur and fashion designer at Butterfly Apparel. She is also the co-owner of the store along with her husband Yasok Nagarajah. You can follow their page on www.facebook.com/butterfly.apparel.
Dresses
Dresses are best suited for short women, as it generates the sought after '2/3-1/3' look. Mostly shifts and short A-line dresses are very attractive. Knee length or a little above the knee is the perfect length. If you can go shorter that'll be even better, as it creates the illusion of longer legs!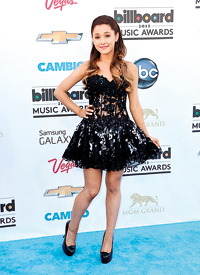 Pants/ skirts
With most petite girls 'short legs' seems to be a difficult sometimes in pulling together an outfit. So use high waist pants or skirts with a belt with the same colour as the bottom.
If going for printed bottoms use vertical designs and definitely very simple miniature prints. There is also an age old dilemma of different opinions on 'wearing maxi dresses' for short women.
For me – if you really love the long length go for a 'high waist maxi skirt' and a tucked in top or a crop top.
Tops
Stick to tops with less frills and flares and wear them tucked in or make sure the length is just above your hip bone.
Tops longer than that tend to drown your height even more. An added perk to being small structured is you get to dress in more feminine prints and colours.
What to wear
The main focus should be to draw the eye vertically. There are so many stylish options but here are some ground rules.
Monochrome outfits: They are elegant and keep the focus as a whole on your entire body. Some stars do this beautifully by making 'minimalism' there fashion statement.
 Printed Top/bottoms: Small prints are a must and those spreading vertically.
Well Fitted outfits: This is a golden rule -as your structure being small as it is, does not have space for 'excess'. Have a good tailor at hand!
Heels
While these seem to be a life saver for us all, don't overdo on the height, as it might make you look out of proportion.
Also stick to 'low cut vamp' heels. (Vamp: the portion of the shoe that covers the foot from the top).
Accessories
Being petite means small structure. That means you have less space to use for display. So use elegant and simple accessories, appropriately scaled to your body.
Pick one item as the center piece and focus on that. Use small handbags /totes, skinny belts and small sun glasses.
Hair
Since it's all about gaining that extra height, use your hair as well. Style it with a top bun, or even a high pony tail to make you appear taller!
Trends to avoid
Here are som highlights towatch out for :
The 'Tunic Top'
Yes this is a very popular item among Asians. But not the best unless you are broad & tall.
Oversized bags
We obviously have heaps of stuff to carry around but wearing these would just make you disappear!
Horizontal stripes
Make you broader than you actually are.
Ankle strap heels
These visually divide your leg & make them look shorter. Keep your ankles free.
Big elaborate prints
Take away the focus from you and tend to drown out your features.