Dotting his paintings in ink
By Adilah Ismail
View(s):
In-between filtered snapshots of his life, family and friends, Anush Jayasekera's Instagram feed is also peppered with famous faces.
Bob Marley is mid-song, Emma Watson looks pensive, Eminem strikes a pose and Zayn Malik gazes solemnly into the distance.
Anush 20, is a architecture student with a penchant for black and white ink portraits and his Instagram feed showcases sketches of music and sporting celebrities as well as actors.
Currently in his third year at the Queensland University of Technology, Anush puts his academic skills to creative use through his drawings.
With a talent for portraits, he opts for monochrome colour palettes, with a preference for ink to convey detail.
"The type of art that intrigues me and inspires me is mostly street art. I'm inspired by artists who are able to use various mediums in unique ways to produce beautiful drawings," says Anush.
He explains that a typical ink drawing usually takes about a week to produce but if he constantly worked on it, without any breaks, the process would take about 20 hours.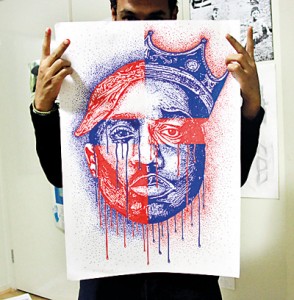 Using Instagram as his primary social media platform, Anush explains that the reason most of his artworks portray celebrities is so that his work is centred on current social events that would interest and engage an audience.
He remains grateful for the recognition so far and uses the feedback as an impetus to produce more work. Occasionally the artist also posts behind the scene videos of the drawings taking shape and coming to life.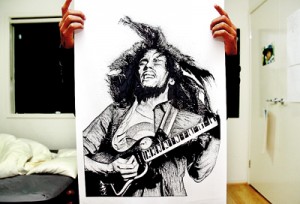 "A lot of my inspiration comes from various social media; a big one being Instagram. Architecture also has a big influence on my work.
Seeing the designs and drawings other students produce motivates me to better my technique and skill," says Anush explaining that his drawing style is derived from architecture.
When stuck for inspiration he confesses that he scrolls through social media for creative prompts or just sleeps it off and starts afresh.
Although pursuing full time art and making a lucrative career out of it would be the ultimate pipedream, Anush explains that for now, he tries to carve out time to draw whenever possible, between classes and the usual trappings of university life.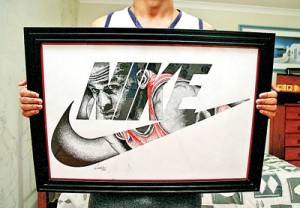 "A lot of my work is spontaneous. It's really hard to set out a time to sit down and focus on a piece when you have so much uni work on the side.
Whenever I have free time, I try to fit in as much drawing as possible!" In Sri Lanka on holiday at the end of this year, Anush admits that he is enthusiastic about coming back after being away since 2012.
Anush's works can be viewed on Instagram: https://instagram.com/nushy_jay/