Bakeer Markar lecture by Tariq Ramadan
View(s):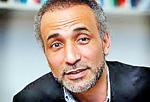 World renowned academic and philosopher Tariq Ramadan, who is a professor of Contemporary Islamic Studies at the University of Oxford, will deliver the M.A. Bakeer Markar Commemoration lecture on September 21 at 4.15 pm at the National Archives Auditorium.
The lecture is organised by the Bakeer Markar Centre for National Unity.