AOD student-run campaign against Gender Based Violence
By Duvindi Illankoon
View(s):
The United Nations Population Fund together with the Academy of Design launched Asia's first student-run design campaign against Gender Based Violence on Friday, September 4. The campaign invited a team of students from the AOD campus to express their thoughts on Gender Based Violence (GBV) through the medium of art and design. Responding to this brief, the students created several thought-provoking installations, paintings and documentaries which were exhibited at the Hilton Colombo Residencies.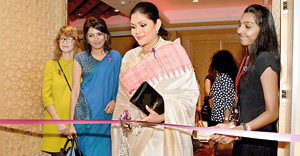 Taglined #100voicesAOD (alternatively #100voicesunfpa), the campaign was originally conceptualised by the UNFPA's Social Change Entrepreneur Onali De Silva Ariyabandu, who noted that the aim was to "educate, empower and engage young people against GBV through community and policy level advocacy. We wanted to move beyond the social media and workshop level to create a ripple effect among young people." Design, she shared, was a unique and very effective way to mobilise young people to the cause.
The exhibition (which followed the official launch) showcased several works created by the students. Many were inspired by films and books, or incidents of GBV they had encountered or heard about. Aisha Jiffry's 'Break Free', a striking installation piece of two figures entrapped in a metal cage tackled mental violence, while Purna Withanarachchi's work depicted child abuse. Duminda Hettiarachchi designed t-shirts emblazoned with slogans. A group of young students from the Holy Family Convent also presented artwork on the topic by invitation. The mediums were as varied as they were expressive, but the underlying message was the same – more awareness and understanding of GBV is crucial to making an end to the problem.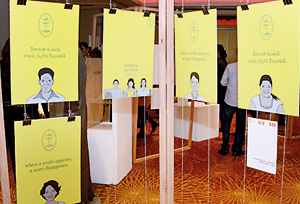 Chief Guest Rosy Senanayake commended the campaign's message, highlighting in her speech the struggles faced by advocacy groups to take action on a policy level in mitigating the circumstances. "It is the youth that must take up the initiative," she said. "It gives me immense courage to know that the children and youth of today are concerned about social responsibility (…) especially by using something like design to break the silence on Gender Based Violence."