To be or not to be
View(s):

Will rugby follow the culture of the politics where what is more important is personal and party not national as the clamour for post in the National Government is being bartered. Sports have a minister and rugby comes under the Ministry of Sports. The issue at hand in rugby is the appointment of council of the union in terms of the constitution of the Sri Lanka Rugby Football Union. Just as much as we see in the government that is being formed we see in rugby a body consisting of those voted by the Provinces who are the stakeholders at least in theory.

They also consist of representatives of A Division clubs. At the council do these people represent the national requirement or promote the interest of the club and think that it is all. Whether you are in the council, a selection committee or a disciplinary committee the need is for a broader view and not myopic and concentrate on your club. If a selector or disciplinary committee member becomes partial and or appears to be representing a club and is non independent there is a possibility of the Minister stepping in and guiding for better governance.

When the council becomes partial there is very little that can be done as they are appointed by the stakeholders being the Provinces or are nominated by the club. With an interim body on place at present and a duly elected body being asked, it is a matter of time till we know what exactly will happen. At present it is a case of brisk lobbying that is taking place for some to think that they can stay on. Rugby is virtually in a stale mate with the Asian Sevens being played and the club season will begin in November.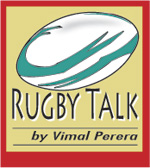 In the present Cabinet are two ministers who have played Rugby: Ministers Malik Samarawickrema and Harin Fernando. I have always seen a number of Ministers who are keen fans of rugby Including the Minister of Finance, Urban Development, Sports and Deputy Minister of International Trade. Rugby is sport that has followed its way to political life. The anoles are at work as pictures with the Minister go viral in social media. The Minister too has been a keen rugby fan as we have seen him at matches and also his son plays junior rugby.
I wonder what the pundits who raised issues for some on the basis that some are involved in sports related business, while some write and one had a child playing for schools have to say. What is important is the use of people who can contribute to the game and not people who try to hide behind a law that has to be implemented in practical terms. It is not the face that matters but the fact that you can be hands on and contribute to the game.
In the Asian Sevens first leg Sri Lanka has been placed fourth where we have been stagnating. The performance however can be commended as they were taken back on the eve of departure as the Captain could not represent the team due to injury. That is one way of looking at and justifying the position we are in. Compare this to China which was way below last year beating Hong Kong in the quarters and Sri Lanka in the semis and playing in the final losing to Japan to take place. Hong Kong who generally has been almost always during recent times played in the final lost out and is placed fifth after Sri Lanka.
When Sri Lanka takes wing to Thailand for the second leg it is going to be a tough task to at least stay where we are. There is Hong Kong, Philippines and Malaysia behind and Korea and China in front. The third leg is expected to be played on the October 10 and 11 in Colombo. This will be an important event for Sri Lanka to show case as in recent times these events have been played in Malaysia, Thailand and Hong Kong who this year are hosting the ARFU Sevens Olympic qualifier. Whispers are abounding as there is no controlling body on place with a question mark on sponsors. This Seven is in the midst of world cup rugby fever which begins on September 18 and ends on October 31.
Sri Lanka needs to get the Sevens as a showcase event because other than Japan and Hong Kong the venue that will draw more crowds will be Sri Lanka. This has been seen in the past when the Kandy Sevens as well as the Carlton Sevens were played. We have to be in line with more sevens been marketed to be played in Sri Lanka. It is not only a job for the Minister of Sports but also for those in charge of tourism.
Last week we also saw two events in the promotion of community rugby. The HARFA Junior Rugby saw a large participation. The Rugby Rumble organised by AGoal was another event that saw interest of rugby players who had played for their schools some recent and some a time ago. It was fun camaraderie and the memories that were shared. It was interesting to see Minister Harin Fernando donning the jersey and playing with the oval ball.
* Vimal Perera is a former player, coach, referee and an IRB Accredited Referees' Educator