Sappers 4×4 Gympo on September 20
View(s):

The fifth consecutive Sappers 4×4 Gympo Motorsport event will be held at the Sapper Off Road Arena in Embilipitiya on September 20. The fourth and final event of the Four Wheel Drive Club of Sri Lanka (FWDCSL), who conducts this event in collaboration with the organisers, the Corps of Engineers of Sri Lanka Army, promises to be a keenly contested one with many reputed off road drivers in action.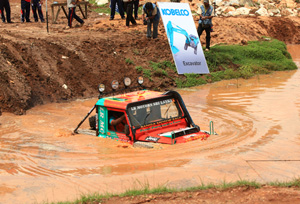 The drivers in contention will be eyeing to finish off on top with the final and only of the FWDCSL event to be held this season after its events at Nuwara Eliya on April 15, Meerigama on June 21 and Kaluaggala on August 9. The Sappers 4×4 Gympo will have five categories, the Standard Vehicles, Standard Modified, Under 3000cc, Over 3000cc and the Extreme Class, which will be battled out among the 14 top teams from Sri Lanka and four foreign teams — two from Malaysia and a team each from Australia and India.
The Sapper Off Road Arena at the Sri Lanka School of Military Engineering in Embilipitiya, where the event is held annually since 2011, is constructed in such a manner that natural obstacles are emulated and the drivers and navigators are tested on their extreme adaptive skills. The uniqueness of the track lies in the variety of obstacles as teams have to drive through mud, water, rocks and trails at different stages of the same track. The key feature of the track is the over and under pass, where a two-lane track in the shape of number eight crosses at the center via a Compact 200 extra – wide bridge with tread way that will only accommodate the width of the vehicles. Each team will get a run on both lanes back to back which will go through the obstacles, mostly uneven articulation testing the teams coping ability with the forces of gravity.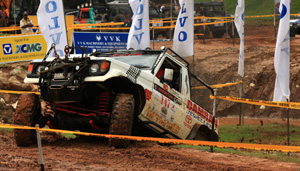 The Off Road Arena in Embilipitiya can accommodate over 15,000 spectators where the entire track can be viewed from any seat. This will be a rare opportunity to witness such action in a coliseum like environment for off-road and adventure enthusiasts. The track is constructed to meet international standards which will serve as a launch pad for talented local teams who aspire to represent Sri Lanka internationally in this form of sport.
The Sappers 4×4 Gympo 2015 is sponsored by VVK Machinery and Equipment, Senok Trade Combined, Swidish Trading, Ceat Kelani Tyre, Sri Lanka Insurance Cooperation, Singer Sri Lanka, Holcim Lanka, Ace Motors and Hasitha Group. – NA