A birth of a dance
ACDA introduces Sri Lankan emotional dance
View(s):
The Arpeggio Creative Dance Academy (ACDA) formed by experience choreographer Nilan Maligaspe for the first time introduced Sri Lankan emotional dance at its recent performance at Indian Cultural Centre, Colombo.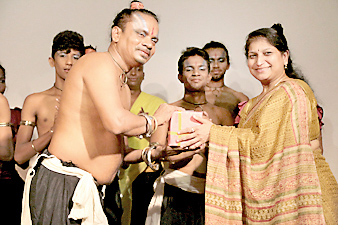 Sri Lankan emotional dance, a new genre of dance, introduced to commemorate 21 years of the ACDD academy, was performed to audiences using sign language as well as dances to classical Sinhalese songs and classical music.
The contemporary dance performance 'Abinikmana' directed by Nilan Maligaspe was performed to the music composition of Sanjeeva Paranamana. It tells the story of Prince Siddhartha who first encounters human sufferings by the four sightings that leads him to want to give up his princely life.
Another contemporary dance 'Unshaken minds' which shows how a mind of a man can be kept steady with the use of meditation was also performed at the ICCR auditorium, Gregory s Road, Colombo-07.