"Thread in Life": A&E visual installation at CFW
View(s):

American & Efird (A&E) Lanka, a fully owned subsidiary of one of the world's premier industrial sewing thread manufacturers American & Efird LLC, USA, had on show an artistic visual installation made out of thread at the recently concluded 'Swim' by Colombo Fashion Week (CFW).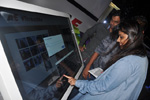 The artistic installation, called "Thread in Life" was prepared with over 100,000 metres of A&E thread and artistically composed on 15 layers of glass by a local creative artist.
Users also engaged with the A&E brand at CFW as they captured photographs of themselves and their friends and uploaded them on Facebook, Instagram or Twitter hash-tagging the keyword 'ThreadMe' which in turn showed up on the big thread-made screen just beside the pool. This drew a high response rate and a team from A&E were constantly on the loop monitoring the hash-tag on-site to ensure every single photograph was featured.
The first-ever annual CFW Swim recently concluded with great success attracting the best in the industry and we take great pride to be a key partner. We're also very delighted for the immense response received towards the #ThreadMe initiative on-site and the Thread in Life masterpiece," said Managing Director of A&E Lanka Priyantha Aluthwatte.