Moved by Lankan emotions, a dance is born
By Duvindi Illankoon
View(s):
The Arpeggio Academy of Creative Dance will introduce audiences to a newly minted form of dance when they partake in this month's Indian Independence Day cultural celebrations in Colombo. The performance scheduled for Friday, August 28, will explore the scope of emotional dance, which director Nilan Maligaspe hopes will herald in a new genre of dance for the country.
"We see too many styles of dance come and go," he says. "Western styles stay popular for a very brief period in Sri Lanka and then people lose interest, even though they remain popular around the world. The only foreign genres that have really been embraced in the long term are Bharatha Natyam and ballet." Nilan, who has been a dancer and dance instructor for several decades seeks to resolve this to a certain extent with a style he calls 'Sri Lankan emotional dance'. Characterized by slow, almost meditative movement and mudra, or hand gestures, the genre focusses on the undulating form of the body rather than vigorous movement.
Nilan was moved to devise the style after observing the struggles of aurally disabled children, who must strain to understand or imitate traditional dance movements due to the lack of an audible rhythm. Emotional dance, as the name suggests, uses the body to express the minutest of emotions. Nilan has chosen four Sinhala language songs by musicians like Nanda Malini and Sunil Ediriweera-"music that you don't usually see dances being choreographed to"-to accompany the performance.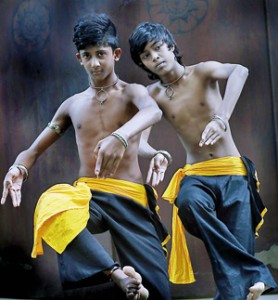 Together with his students, Nilan has also developed several gestures that he thinks could be used universally ("they're simple and borrow from sign language," he explains). The dance style has its own makeup and costume, a mixture of western pieces (such as a loose black pant) and traditional accompaniments like the sangala, thick gold bangles and a white ina patiya or waist belt.
The Sri Lankan emotional dance segment is one of three that Arpeggio will stage on the 28th. The dancers will also perform 'Abhinikmana', with original music by Sanjeewa Paranamanna and 'Unshaken Minds' a soothing performance of music and dance.
The show is sponsored by the Indian Cultural Centre (ICCR) in Colombo and will be held at the ICCR Auditorium at Gregory's Road from 6.30 p.m. onwards. Entrance is free.