He was home to see the Kinihiriya in full bloom
View(s):

It took Nihal Jayamanne 30 years to find a Kinihiriya plant. From the moment he first laid eyes on the buttercup yellow flowers he was completely bowled over. Today the silvery grey tree stands tall by his driveway, a silent bystander to the last five years of battle between life and death that blanketed its home.

Mrs. Rohini Jayamanne appears on the verandah when we first arrive at their residence in Borella. The picture of a perfect hostess, her soft conversation is only interrupted by the arrival of refreshments. Sitting on the kavichchi close by, her husband Nihal, well known President's Counsel and Chairman of Seylan Bank, can't resist peppering her remarks with his own comments and humorous digressions, before promising to sit quietly, which he inevitably abandons. To an outsider, it looks like the playful banter typical of a family at home. But only they know how strikingly different their lives were five years ago.

Penned down in her first book, "He Breathes Again", Rohini's narrative is an account of the family's ordeal when Nihal was diagnosed with idiopathic lung fibrosis. A progressive and fatal disease caused by the thickening of the lining of the lungs, Mr Jayamanne is the first recipient of a lung transplant in Sri Lanka.

Causing thickness and stiffness of the lung tissue, the elusively lethal disease has doctors yet to discover the actual cause and cure. With around 80,000 people suffering from the illness in the United States alone, 2015 has seen the introduction of two FDA approved experimental drugs, prior to which life expectancy was three to five years.

Nihal was not so lucky when the illness was detected in 2009. The first two years, they recall were not too bad, the only obvious symptoms being shortness of breath and fatigue. It was in 2011 before an overseas trip that Nihal, who seemed overly tired checked into hospital for a few routine tests. "I left the hospital to get him a few things from home", Rohini says, recalling that it was the last time she herself would go home till the following year when he was finally discharged.

After being diagnosed by Consultant Chest Specialist and Physician Dr. Vajira Tennakoon, the only option for Nihal was a lung transplant; an operation that had never been performed in the country, which obviously agitated Rohini. "I had no intention of doing it," she says and so prepared herself for the consequences, while Nihal shrugs "I didn't take any notice of it."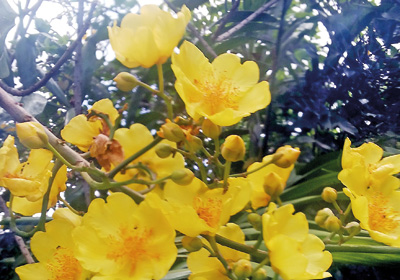 A spark of resistance came from their then 22- year-old son Tilanka, who was finishing his studies abroad. "He's an out of the box thinker," Nihal tells us with unreserved pride. Adamant to do whatever it took "it was my son who from the moment was on the go" he says – making calls and writing to doctors abroad who would be willing to carry out the transplant surgery.
Although Nihal figuratively walked a tight rope between life and death while lying in hospital, it had little effect on his sense of humour. "In a way it was like a holiday," he smiles. For the next five months his hospital room at Nawaloka was his family's home as well. He shrugs off questions about his ordeal. He says instead "it had a nice view, overlooking the Beira Lake" and speaks of relishing the time he got to spend "relaxing" as he calls it. He would glimpse his son seated in the next room, diligently glued to his laptop, making calls, constantly searching the net for new information on how to tackle the illness. "Most of the doctors rejected our case" he explains, as transplants are performed on patients usually below 60; Nihal was 65 at the time.
Taking up the challenge was Dr. Takahiro Oto of the Okayama University Hospital, Japan. A respiratory surgeon specializing in lung transplantation, Dr. Oto would in 2013 successfully carry out the world's first successful living donor transplant of the middle lobe of a lung. "He listened to my son's story," Rohini explains, asking to meet them and Nihal, to see whether they could do the surgery despite the age risk. Although Dr. Oto was interested in taking on the case, the strict Japanese organ transplantation law of not permitting non- related donors, curtailed them from proceeding with the surgery.
Dr. Oto offered to conduct the operation in Sri Lanka, despite the fact that it would be a first. "We were worried because we didn't have the facilities, the doctors, or even the aftercare required for this type of procedure," even a special bed being brought down from abroad for the operation. The harder task was to find two suitable lung lobe donors and a standby. The process was an endless stream of advertisements in the news papers and on radio, letters and even a service organized by St. Mary's Church, Bambalapitiya. For Rohini, the support and well wishes of friends and people who were eager to help, along with the service dedicated to their search was overwhelmingly moving.
The group of 50 volunteers ranged from farmers to executives, carpenters; a varied spectrum of people with some from out of Colombo as well. Endless rounds of blood matching over the next few days narrowed it down to a final three. The idea of donating the lung lobes didn't settle well with many as they came closer to the day of surgery, with one of the donors getting 'cold feet' and backing out. Unbeknownst to his parents Tilanka had himself tested to be a donor, much to their horror. "I was crying," Nihal says candidly, remembering the moment he was being prepped for the surgery knowing that the same was happening to his son.
With hours to go before the surgery, by a stroke of luck a doctor friend met them with the news; she had found a cadaver at the National Hospital with a matching set of lungs, which Dr. Oto confirmed. On November 30, 2011, his son firmly out of the way as donor, Dr. Oto and his team of 18 successfully completed the 14-hour surgery; a first time for Sri Lanka.
The daunting experience is one that is still clearly imprinted on the family and those who helped them. "It's my belief that when you go through an experience like this, you need to tell people about it," explains Rohini, hoping that others might relate to it and feel the faith and determination they had. For Nihal, the experience has little tinged his upbeat and positive outlook on life. "When I came home I got to see the Kinihiriya in bloom," he smiles a little wistfully. "And Rohini and Tilanka are now experts in lung transplants," he adds, twinkling.
"He Breathes Again" by Rohini Jayamanne will be launched on September 1 at the Sri Lanka Foundation Institute at 7.30 p.m.