Eucharistic celebration for silver jubilee
View(s):

A Eucharistic celebration organised by the teachers and students of St. Mary's College, Negombo was held at St. Mary's Church, Grand Street, Negombo recently to celebrate the silver jubilee of the priestly ordination of Rev. Father Jayantha Wickramasinghe.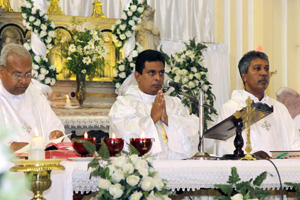 Jayantha Wickramasinghe was born to Catholic parents Francis Wickramasinghe and Mrs. Juliette Wilangamuwa on May 13, 1964, the youngest child in the family. Having expressed a desire to be a priest from a young age, he entered the St. Aloysius' Seminary, Borella on May 3, 1981 at the age of 17, with the patronage of Father J. L. Miqueu under the guidance of Rev. Father Julius Christopher. He then entered the Kalutara Seminary and Ampitiya National Seminary in September 1983 and September 1984 respectively.
He was made a Deacon on October 7, 1989 by Auxiliary Bishop of Colombo Most. Rev. Dr. Oswald Gomez at Thewaththa Basilica, and ordained as a priest on July 28, 1990 at St. Lucia Cathedral by the Most Rev. Dr. Joseph Cardinal Tomko, Prefect of the Sacred Congregation for Evangelisation of Peoples. He was sent to St Mary's Cathedral in Badulla in September 1990, All Saints Church Borella on April 1991 and served as the assistant parish priest of the Negombo Grand-street Church(Munnakkara sub-station) during the same year.
Starting his priestly mission as the first parish priest in the Raddolugama new parish in August 1994, he established the Raddolugama 'Peristera' orphanage in January 1995, and acts as the Director Father at present. In 1998, appointed to the Welivita Parish, he joined the staff at the St. Mary's College as an assistant teacher on July 28, 2000, the day of his 10th anniversary of ordination. On December 2003 he was appointed parish priest of the Sedawaththa Parish and joined the staff at the Kotahena St. Lucia's College in January, 2014.
He was appointed as the Principal of St. Lucia's College in October, 2005 and served as resident priest at Kotahena St. Lucia's Cathedral, Wattala Galwetiya Holy Rosary Church and Mahawaththa St. Anthony's Church.
Father Jayantha Wickramasinghe was appointed as the Rector of St. Mary's College, Negombo and has the vision and mission to develop the College with the assistance of parents, teachers, old boys and well wishers.
We wish him a bright future.
-Gayathri Kotelawala