A cool way to halve your electricity bill
By Duvindi Illankoon
Realising that his refrigerator at home was the biggest culprit in power consumption Wing Commander Alwis came up with a do-it-yourself mechanism to save energy
View(s):
It was Plato who declared that necessity was the mother of invention. Wing Commander P.L.L.C.S. Alwis, our final Ray Awards shortlist inventor, learnt to think on his feet on the battlefields of wartime Sri Lanka- now, he's used that same snap thinking to devise a simple method to save energy and almost halve your electricity bill.
The inventor is the father of two and knows a thing or two about alarming bills. "My kids would open the refrigerator door and sit with their backs to it on hot days," he laughs "and I'd be sent an electricity bill every month that was quite high." He investigated further and discovered that the culprit was indeed the refrigerator, which on average accounts for about 51% of a household's energy consumption. Of this there is a 40% energy loss every time a refrigerator door is opened, we're told.
The Air Force officer sought to devise a simple means of cutting back on the power consumed by his refrigerator at home. Using thick polythene, he designed rectangular coverings that could be tacked on to each railing in his fridge, thus preventing the cold air from escaping every time the door is opened. The effect on his household's electricity bill was immediate and significant-he now pays less than Rs. 1000 for the electricity consumed by his family.
Growing up in Galle, Wing Commander Alwis studied at Richmond College. He sat for his Advanced Levels in the Maths stream, hoping to gain entrance to study engineering, but unfortunately was not able to attain the required Z-score. "I was a failure," he says cheerfully. "But it was a good failure." This led him to the Sri Lanka Air Force, which he joined more for the love of aeronautical engineering than anything else. Time quickly made amends to that-"being in the Air Force changed my life," he says simply. "Now, I see everything in a different light and it has taught me to think on my feet." Today, he heads the Sri Lanka Air Force Research and Development Base at Katunayake, serving as its first Commanding Officer.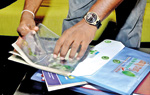 Wing Commander Alwis also has a BSC (Defence Studies) in Management from the Kothalawala Defence University (KDU) and a Masters in the same from the Defence Services Command and Staff College in Sapugaskanda. His time at KDU led him to his research on the cold air retainer door screening system, which he hoped to present as a paper. "My lecturers were sceptical at first," he remembers. "They wondered if I had enough research to write a 15000 word paper about this iti kolé (polythene)."
He set about rectifying that by observing the energy usage of his refrigerator at home and evaluating the change in his electricity bill over a period of two years (2007-2009). With the assistance of the Sustainable Energy Authority, Wing Commander Alwis used data loggers on refrigerators and found that his own electricity consumption was reduced by about 10-15 units-a remarkable drop that pushed his household's overall consumption below the 90 unit limit (at the time), thus drastically reducing his bill. His research was eventually completed at the Sapugaskanda Staff College in partnership with the University of Kelaniya. The invention received several awards, including notably a Presidential Award for invention in the energy sector in 2011.
Overall, the cold air retainer door screening system can reduce your household's energy consumption by a minimum of 7.2 kWh, says Wing Commander Alwis. This can lead to an impressive minimum saving of 12.8 million kWh monthly and a reduction of 5.5 million kg of carbon dioxide emission per month in Sri Lanka. He has also estimated the saving to the Ceylon Electricity Board at Rs. 110.6 million monthly by calculating the loss it incurs to produce each extra unit from the 91-120 unit range.
The benefits, therefore, are remarkable. The best part? "You can make it yourself at home," he says. All you need is thick polythene (the best thickness is 0.04 mm) and a device to tack the coverings onto the refrigerator shelves. It's quick, simple and extremely cost effective-and it'll save your household some big bucks in the long run. Commander Alwis has patented his invention (and in fact it is in use in several shops and households already) but right now he doesn't have time to engage in producing it mass scale. His hope, though, is to one day produce at least a million of these screening systems. "Imagine the difference it could make to our country," he enthuses. Until then, he welcomes others making best use of his invention. "What we need is a culture that understands an invention and adopts it," he says. "That to me is better than just giving a product to people."
The Ray Award winner will be announced at a ceremony to be held tomorrow, August 24, at the Kingsbury Hotel.