People and events
View(s):

'Watch this space: Framing the past, untying the future'
Bringing together artists from around the world, the 'Art of Peace' exhibition offers an emotive and incisive commentary on post-conflict societies
By Smriti Daniel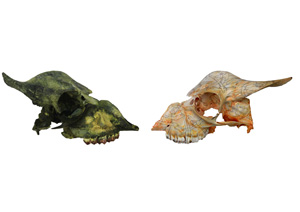 Sanjana Hattotuwa is a day away from the launch of his latest exhibition when he sits down for an interview with the Sunday Times. As the curator of 'Watch this space: Framing the past, untying the future', Hattotuwa designed an exhibition in collaboration with the UK based Artraker, created a programme of panel discussions and lectures, and commissioned an original performance by the Floating Space Theatre Company titled 'Forgetting November'. The exhibition, the panels and the performances will all feed into and off each other.
To begin with, the exhibition seems particularly promising. The catalogue brings together an influential group of artists from countries like Syria, Pakistan, Afghanistan, Mali, Northern Ireland, Myanmar, and Iraq to offer an emotive and incisive commentary on post-conflict societies. Those featured were all shortlisted for the Artraker Award of 2014 and to their number Hattotuwa and Saskia Fernando have added a carefully curated group of local artists. Their selection includes established names like T. Shanaathanan, Chandraguptha Thenuwara and Jagath Weerasinghe, with room for relatively new faces M. Vijitharan and G. Samvarthini.
Artraker describe their 'Art of Peace Exhibition' as a conversation, between the works of selected Artrakers, local artists, performance artists and intellectuals from various backgrounds. They see art, within this framework, as inspiring the imagination 'critical to create new narratives.' The exhibition comes to Colombo from London and will travel on to Yangon in Myanmar.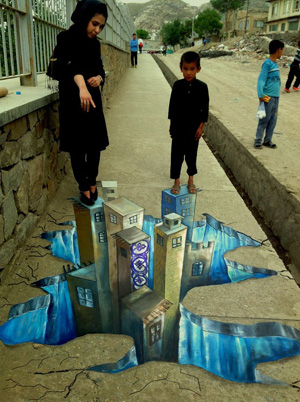 The panel discussions that Hattotuwa has planned kick off with a keynote from Dr. Radhika Coomaraswamy on 'Going beyond war and violence: How can we imagine a just peace?' The panels that follow tap into the zeitgeist – all these conversations happening in Sri Lanka today about transitional justice and the challenges of memorialisation. On the programme is a panel focussed specifically on the role media plays in pursuing transitional justice. Hattotuwa asks bluntly: 'Can a media landscape undergirded by commercial and corporate interests really interrogate violence and its sources?'
Other panels include conversations around sites of memory, the art of memorialisation, transforming politics for transitional justice and the challenges of writing about transition. Counted among the panelists, moderators and respondents are Member of Parliament M.A. Sumanthiran, Executive Director at U.S-Sri Lanka Fulbright Commission Tissa Jayatilaka, academics Vangeesa Sumanasekara and Dushyanthi Mendis, writer Thisuri Wanniarachchi, lawyers Rohan Edrisinha, Selyna Peiris and Deanne Uyangoda, artists T. Shanaathanan and Chandragupta Thenuwara, performers Ruhanie Perera and Jake Oorloff, photographer Abdul Halik-Aziz as well as 'techonologists' and commentators Nalaka Gunawardene and Mohamed Hisham. More than one person on this list wears more than one hat, and Hattatowa is counting on the depth and diversity of their interests to enrich the conversation. Each panel will be recorded and uploaded to Groundviews where the debates will continue to have lives online.
For the final element, that of the performance, Hattotuwa turned to the Floating Space Theatre Company. "Floating Space has always been for me a company that has been on the cutting edge of what theatre can and should be," he says now, referring to previous collaborations like 'OverWrite' which was performed at the British Council library in 2014. Now Hattotuwa is anticipating that 'Forgetting November,' will be a triumph for the company. We will see Ranmali Mirchandani and Peter D'Almeida take the stage with Ruhanie Perera. Jake Oorloff directs. "It is an original script that will look at the themes of the exhibition which are memory, memorialisation, loss, reflection and identity," says Hattotuwa.
Hattotuwa is best known as the editor of the citizen journalism website Groundviews. For 'Watch this space' he returns to what he describes as the leitmotif, "the one binding thread,"that has characterised all his previous forays into curating – the urge to critically question. "What I really wanted out of this is not just that we interrogate the past…but that we be forward looking. So to look at what we want to be in contradistinction to what we have been," he says.
Taken together 'Watch This Space' brings under its umbrella an ambitious assortment of platforms and modes of expression. Hattotuwa concludes: "For me it's interesting because this event then combines art, including sculpture, debate, discussion and keynotes, as well as theatre. So it's multiple perspectives grappling with some of the issues that I think are absolutely pivotal for us to be engaged with, if only because a lot of those issues should play a role when we cast our ballot on August 17."
Watch this space: Framing the past, untying the future is on at Park Street Mews, Warehouse D until August 17.'Forgetting November' will be staged on August 27, 28, 30 and 31. Tickets priced at Rs.1000 are now available at the Lionel Wendt Art Centre.
---
New President at IIESL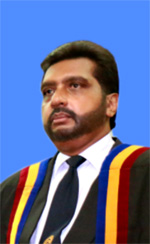 Eng. Jagath Arawwawala was inducted as the 25th President of the Institution of Incorporated Engineers, Sri Lanka (IIESL) at its annual general meeting held at the Sri Lanka Foundation Institute recently.
A product of Royal College and Nalanda College Colombo, he completed his engineering studies in London and returned after 15 years to Sri Lanka in the early 90s to join Diesel & Motor Engineering Co. He then went on to serve as Director / General Manager at Computerlink Ltd. Subsequently he served at Polycrom Electrical Industries as GM / CEO.
Mr. Arawwawala is a production engineer with over 25 years experience and a practitioner of ergonomics in the manufacturing industry. He is a Fellow of IIESL and holds memberships with IET, ILM, PMA, (UK), and the Engineers Guild of Sri Lanka. He also holds a MBA in strategic management.
---
Colombo Courtyard wins Gold at prestigious Culinary Art food expo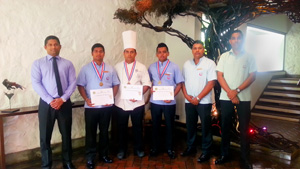 Colombo Courtyard's culinary experts won four medals at the Chefs Guild Competition "Culinary Art Food Expo 2015" which was held at the BMICH from July24 till 26. The winning team comprised of Colombo Courtyard's S.M. Nuwan Somathileka of Food & Beverage Department who won the Gold medal for Anchor Beer Cocktail "Cloudy Bay", R.T. Nalin and P. Quejo of the Kitchen Department who won the Silver medal for vegetarian three course menu and Bronze medal for Hot cookery and R.L Thushara Madushanka Rajapaksha of Food & Beverage who won the Bronze medal for IDL Arrack Cocktail "Sentella."
The Chefs' Guild Culinary Art competition is held every two years. This was the 16th event where over 2,500 contestants battled it out for top honours over a three day competition under various categories ranging from live cooking events to artistic showpiece challenges and cocktail competitions. Colombo Courtyard, nestled in the heart of the city is an urban boutique hotel which is a fusion of contemporary style with the essence of environmental design.
---
Chevening Scholarship applications now open
The Chevening Secretariat is accepting applications for 2016/2017 Chevening Scholarships via www.chevening.org, a press release from the British High Commission said.
Chevening Scholarships are awarded to individuals with strong academic backgrounds who also have demonstrable leadership potential. The scholarship offers financial support to study for a Master's degree at any of the UK's leading universities and the opportunity to become part of an influential global network of 44,000 alumni.
The call for new applicants follows the selection of seven scholars from Sri Lanka and the Maldives, who won an award to study at a UK university this year.  There are approximately 1,500 Chevening Scholarships on offer globally for the 2016/2017 academic cycle. These scholarships represent a significant investment from the UK Government to develop the next cohort of global leaders.
UK Ambassador to Sri Lanka and the Maldives James Dauris said, "We really value the strong educational ties we have with so many people in Sri Lanka and in the Maldives. There are countless examples of people in both countries who have gone on to excel in their fields after studying in the UK at some of the best universities in the world. I hope you will see in our Chevening scholarship scheme a wonderful opportunity to help you prepare to make the most of your potential."
Chevening Secretariat Director, Michael Scott-Kline, said: "A Chevening Scholarship is a mark of honour bestowed on individuals who have been identified as having the qualities to become highly influential global leaders. Not only do award recipients receive a first-rate UK education, through Chevening they join a vibrant community of Chevening Alumni, Foreign and Commonwealth Office staff, UK universities, and partner organisations. Chevening Award recipients will draw on and contribute to this community for the rest of their lives.
Visit www.chevening.org/faqs for detailed information on the eligibility criteria and award specifications.
---
Marshals Motorcycle Club launch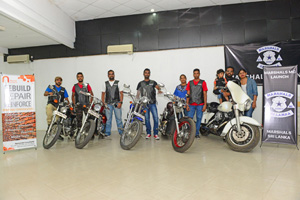 The launch of the Sri Lankan Chapter of the Marshals Motorcycle Club was held at the Austasia Sports and Leisure Club in Thalawathugoda last week. Founding members of the Sri Lankan Chapter Rashmin Mahamudalige, Yasith Sameera Obeysekara, Dawson James Newman, Kusal Tharindu, Indika Jude Fonseka and Lanka Jayasinghe received their official club colours at the ceremony.
The event co-sponsored by Nehemiah Consultants was attended by national cricketer Ajantha Mendis, motorcycle enthusiasts and others. The Marshals which originated in Australia has chapters that cover all continents. Their core mission is to increase camaraderie between members and create a more positive view of motorcycle clubs in the world.
Activities will involve gatherings with members and families, tour and charity rides, and awareness campaigns on their machines and motorcycling in general.
For more information on the club and its activities, please contact 0771 050950. The Marshals MC Sri Lanka can also be found on Facebook.
---
Cinnamon Red launches 'Red Rave' art and design competition for first anniversary
Five best artistic creations to win cash prize of Rs.20,000 each with a one night's stay
Cinnamon Red Colombo, Sri Lanka's first lean luxury hotel has launched 'Red Rave' an art and design competition offering talented young artists and designers an opportunity to showcase their work in the hotel and its carpark driveways, in celebration of its first year anniversary on September 1st.
The competition reiterates the property's commitment to be an 'arty hotel'. Last year too, a competition to curate graffiti based artistic work helped turn the spotlight on a group of talented artists, namely Niruban Satchithanandakumar and the P413 team, Hash Bandara and Umanga Samarasinghe,Hamza Ahamed and Ruwangi Amarasinghe.
This year's 'Red Rave' will elevate the status of the hotel's 'art drive agenda' into high gear and to a wider audience, since it encompasses a broader scope of art mediums such as relief art, designs, sculpture and 3D art."There are a lot of contemporary artists in Sri Lanka, but the opportunities they have to showcase their work is so latent and under the radar. This is the second consecutive year we are launching an art related competition,"Cinnamon Red General Manager Terrence Fernando said.
"We hope we can give an impetus through 'Red Rave' to further showcase the works of contemporary artists whilst rewarding, recognising and appreciating their talent through this initiative."
Throughout August, artists can submit a first sketch of how best the Cinnamon Red's selected walls can be transformed into dynamic and vibrant spaces, along with a brief portfolio of themselves. Preference will be given to designs and art that have an element of red. The top five works of art/design will then go on display at the hotel, and will also go on Cinnamon Red's website where it will be shared with a wider audience.
The top five artists will be selected by a panel of distinguished judges. 'Red Rave' prizes entail a cash prize of Rs.20,000 each, with an overnight stay at Cinnamon Red. A set cost of the expenditure incurred for material used for the production of the art pieces will be borne by the hotel.
Entries are now open, and will close on August 25.The competition is open to both individuals and groups.
Interested applicants should inbox to Cinnamon Red Facebook page – www.facebook.com/CinnamonRedColombo or call Shehan on 0766344016 for more information.
---
ACWBC elects new President
Ramani Rajapakse was recently elected President of the All Ceylon Women's Buddhist Congress (ACWBC). She is the younger daughter of the late Lady Chrysobel Rajapakse, founder member of ACWBC, inaugural Honorary Secretary and its third President, and of Sir Lalitha Rajapakse, who was President of the All Ceylon Buddhist Congress in the mid sixties.
Ramani served as the Chairperson of the Hospice 'Suwa Sevana' at the ACWBC, a facility for sick elders, built with her mother's vision which was upgraded with her own finances. Ramani supports several charities such as Revata National School, Balapitiya, founded by her late father, the Cancer Society, SUCCESS and HelpAge.
She is an Attorney-at-Law and teaches French as a volunteer.