Star of Africa for Sri Lankan doctor
View(s):

Sri Lankan Consultant Dental Surgeon Dr. Markandu Kanagasabai, has been honoured with Liberia's top civilian award, the distinction of the Grand Commander in the Order of the Star of Africa, at a ceremony held in Monrovia, the West African nation's capital on July 17.

The honour was conferred upon Dr. Kanagasabai by Liberia's President Ellen Johnson-Sirleaf for his distinguished and dedicated service to Liberia – spanning a total of 37 years – including during the country's 15-year civil conflict and the recent Ebola outbreak.  He is the first Sri Lankan to receive the Star of Africa award, and only the second foreign doctor to receive this honour in 40 years. He received the award during a ceremony marking Liberia's 168th Independence Day, the only one to be awarded the honour for long service.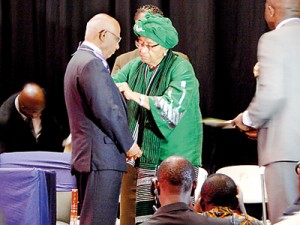 Dr. Kanagasabai is the head of the Oral Health Outreach Programme with Liberia's Ministry of Health and Social Welfare. In Liberia, Dr. Kanagasabai served at the Phebe Teaching Hospital in Gbarnga, and later moved to the country's premier medical institution, the John F. Kennedy Memorial Teaching Hospital in Monrovia. He is Consultant and Lecturer at the Medical College, University of Liberia. He has represented Liberia as a delegate at several international fora in Bukina Faso, Cote d'Ivore, and Niger.
Dr. Kanagasabai was a student at Jaffna Central College until 1962, when he passed his University of London pre-medical examination. He gained admission to the Faculty of Medicine, Peradeniya, University of Ceylon, graduating in 1969. He completed graduate training at the Dental Institute, Colombo and later served as a Dental Surgeon at the Bandarawela District Hospital and Diyatalawa Base Hospital (1971-73), and Matale Base Hospital, before being contracted by the Liberian Government in 1978 to assist with strengthening its health system.
Dr. Kanagasabai was an active member of the Rotary Clubs in Bandarawela and Matale in Sri Lanka, and also in Gbarnga in Liberia.