Faces from the silver screen
View(s):

London-based artist Annette Fernando will showcase her work 'Girls Like Us' at the Rv8y Studio Gallery in Colombo from August 14 to the 28. Born and raised in London, UK, Annette's father is Sri Lankan and her mother half Italian, half French.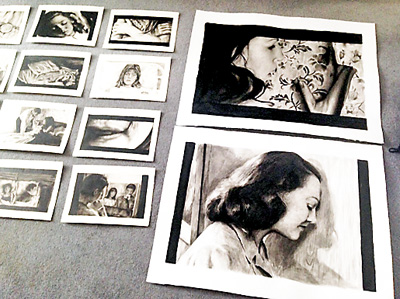 Having initially completed a foundation diploma in Art & Design at the Camberwell College of Art & Design, Annette moved on to the BA Fine Art course at the Central Saint Martins' College of Art & Design. Annette has exhibited her work across the United Kingdom, France and Spain and in 2014 won the Student Award for the prestigious Jerwood Drawing Prize – one of the biggest draughtsmanship exhibitions in the UK.
Her visual style is rooted in the realm of comic books, romantic pulp novels and film noire and her work contains copious amounts of cinematic references, with a particular focus on the British and French New Wave movements. Much of her references for the 'Girls Like Us' exhibition in Colombo contain scenes from Ingmar Bergman, Roman Polanski, Joseph Losey, Francois Truffaut, Gerry O'Hara and Jean-Luc Godard's cinematic oeuvre.
Annette is currently visiting Sri Lanka, as she travels across Asia to get in touch with her roots.