Derelict city hotel turns canvas for artists
As Colomboscope returns for its 2015 edition from August 21-30, Duvindi Illankoon speaks to the curators about the event's main programmes; the exhibition 'Shadow Scenes' and the talks and literature programme
View(s):
SHADOW SCENES
August 21-30
Walking through the Rio Hotel on a weekday evening is not pleasant, although it's exciting. Though it sits in the heart of Slave Island, the thick walls cut out most of the noise once you're inside and the unmistakable smell of dead rat prevails. There's very little in the way of light and plenty in the way of fodder for a horror film. This is the venue for 'Shadow Scenes', the exhibition programme of this year's Colomboscope.
The Rio once used to be magnificent, we're told. This abandoned and derelict old building was a landmark of Slave Island, a bustling establishment that thrived in its multicultural surroundings. This all changed with the '83 riots, when the building was attacked by angry mobs and the owners-shocked and disheartened-closed up and went away. Today the hotel towers above Slave Island as a reminder of what the city used to be, although its general environment is what you would politely call 'atmospheric' and your mother would declare to be frightfully dirty.
"From the moment I entered the Rio I knew it was special," says Natasha Ginwala, who along with Menika van der Poorten curates Shadow Scenes. "It's exciting to bring the exhibition to this amazing, historic place in the middle of this commercial city. We're too used to going for exhibitions in cubic white spaces."
Forty rooms at the Rio have been transformed by the artists, who have been given a room each for their works (a few share rooms, but "their exhibits work with each other" says Natasha). Together, they have turned the hotel's rooms into a varied cornucopia of paintings, installations, sound and text-based works, photography, film and performance art. "The artists have produced works that are very engaging," says Natasha. "They have responded in pretty much every possible medium."
Natasha is an independent curator, researcher and writer alternating between Berlin and India. This is her second curatorial experience in Sri Lanka (the first, a contemporary art exhibition). Menika van der Poorten, her co-curator, is a Sri Lankan photographer whose work is influenced by her experience of living between different cultures and communities. Menika enthuses about the diversity of the artists they've shortlisted for the exhibition, although admitting ruefully that it's a much shorter list than she would have preferred. Budget and space concerns required a tough, but necessary editing of their original list.
Among the Sri Lankan artists showing at Colomboscope are well known names, like Chandragupta Thenuwara and T. Shanathanaan. Their work will be shown alongside those of younger artists like Chinthaka Thenuwara and Mika Tennekoon. The offerings go well beyond what we view as art traditionally; for example, Debbie Phillips and Dhanushka Gunathillake will work in the film medium, Asvajit Boyle and Lalindra Amarasekara with sound, and Abdul Halik Azeez (Instagram's famed 'Colombedouin') will team up with several Instagrammers and other partners for an installation by International Alert on the ground floor.
Regional participants include Bani Abidi (Pakistan), Clark House Initiative (India) and Rathin Barman (India). Confirmed international participants include Sven Augustijen (Belgium), Pedro Gomez-Egana (Columbia), Camille Henrot (France), Susanne Krieman (Germany), Agnieszka Polska (Poland) and Lucy Skaer (UK) among others.
The exhibition will also have a place for a few student artists from the University of Jaffna. "There's a certain rigour there I admire," says Menika. "You can tell that they've had good training. There has clearly been someone who has pushed them to elevate their work."
For both curators, it's the venue that seals the deal. "We've had to wire up parts of the building at a great cost," says Menika. "But there's more to the Rio than the urban cesspit it's usually portrayed as. It's got this sense of familiarity and history because of a turbulent past." Natasha recommends making your way in an orderly fashion through the exhibit, starting from the bottom, although she's not averse to the idea of someone randomly choosing exhibits to visit as well. "The idea is that when you travel from floor to floor it's almost a narrative," she says. "We've used every corner of the hotel. We want the building to come alive for the city."
THE CITY. IDENTITY. URBANITY
August 21-23
Urbanity (yes, that's a word) is this year's central theme for the talks and literature programme of Cinnamon Colomboscope. "It's all about the city," says curator Radhika Hettiarachchi. "It's people, the societal and economic impact of the rapid development we're seeing-we're asking if Colombo is dragging the other cities behind it, or if it's a model for development."
The talks and lit programme is what Colomboscope became known for when it was first introduced in 2013. Radhika has the formidable responsibility of ensuring the programme lives up to last year's, and that they don't repeat certain hiccups in timing and administration. Thus participants can expect a 15-minute interval between sessions, plus there will be no overlapping sessions-so conceivably, you can catch the entire programme over the weekend (if you dash like a demon and can survive the overdose of culture).
The programme is admirably diverse-from talks to walks through the city to curated dinners and poetry evenings, there's something here for everyone. Walks around Slave Island seek to reintroduce the city to participants-Slave Island is on the cusp of change, and this makes for a fascinating tour, says Radhika. "It's a phenomenal city in terms of change. You're almost looking at Colombo reflected in this microcosm."
Imaad Majeed will lead 'Kacha Kacha', a trilingual poetry session that will happen at Castle Hotel, an old establishment made all the more engaging for its rather dubious character. Here, the front seats will be reserved for the regulars at the hotel's bar. "We've tried to make certain events trilingual," says Radhika. The language of communication, however, is English for the most part.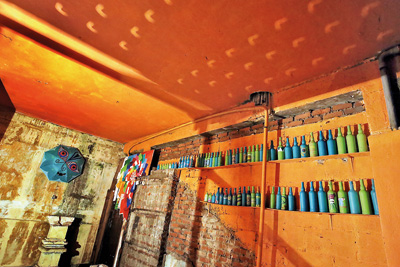 Talks include 'Future Cities', which will bring together architect Madhura Premathilake, urban planner Remo Burkhadt and Chairperson of the Megapolis Project Ajitha De Costa. Metro/Sexual will explore gender and sexuality in Colombo. Political cartoonist Gihan De Chickera will join British satirist Jonathan Coe and Indian writer and columnist Naresh Fernando to explore how satire, cartoon and journalism can represent the realities of living in Colombo. In 'Capital', an economist, a researcher, a corporate leader and a Pettah businessman discuss the many economies of Colombo and the cash economy of Pettah in particular.
Radhika seems unfazed by the undoubtedly significant logistics of the days ahead. Like her co-curators at Shadow Scenes, she looks forward to the unusual and alternative landscape that Slave Island will offer and the response of an audience that they hope will comprise not just of the privileged, but people from all walks of life and business in the city.
Next week a glimpse of Cinnamon Colomboscope's schedule and a few previews from the programme.