Chef Kani's Hippo Dough at your fingertips now!
View(s):

Chef Walter Lee has a simple food mantra- celebrate the classics, but think new. When he was in Sri Lanka on his third visit last month, the experienced chef and restaurateur was here on a mission: to share his innovative ideas with others in his field. At the Bayleaf last month, Walter, or Chef Kani as he is popularly known also introduced his range of sauces, and his interestingly named Hippo Dough.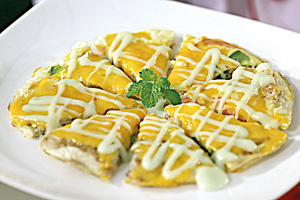 With over 20 years in the culinary field, Chef Kani has a deep understanding of the world behind the kitchen door as well as the dining room. Although he manages 70 hotels in 23 countries such as the Mango Tree chain he found himself making discoveries about the hospitality industry that inspired him to work on his range of products. "Every day we waste about 5% of our food and produce," he stated. The challenge, he feels that most chefs encounter is finding food or a dish that is profitable, tasty and healthy. When he came up with the idea for Hippo dough he was literally in the kitchen.
As a WACS (World Association of Chefs Societies) certified judge, Chef Kani spends most of his time travelling. "I realized that every country has some kind of wrap or bread authentic to them." His idea- to create frozen dough that could be made into any kind of pastry; from choux to filo, puff pastry and even roti. While it sounded interesting, the process took three years of food engineering to produce. Even then, the Hippo dough was not very well received. "I remember showing it to my French chef friends," he laughs, recalling how horrified they were when he offered to make them a croissant from the same dough used to make a roti. Ten minutes later, their opinions had changed.
"I'm using the same recipe. Just minus all the unnecessary fat," he explains. His Hippo dough is miles apart from the usual frozen pastry we find in supermarkets. Its molecular structure has been tweaked so that "it goes straight from the fridge to the pan" without having to thaw. It doesn't use oil either, only heat. "When you buy a croissant from a bakery you don't realize that you're eating about 50% oil and butter," he shakes his head.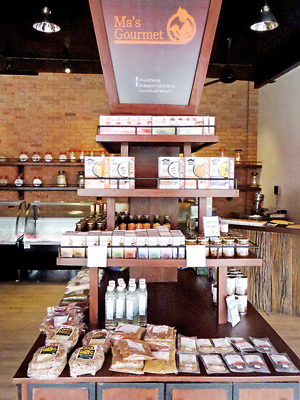 Although Hippo dough is very new to the island, you can find it on many a Singaporean or Thai menu. "We use it in hotels as well" he says, while we are served crispy breakfast toasties and later, a flaky chicken pie- both using the same dough.
But the dough revolution isn't the only trick up Chef Kani's sleeve. On the table is an array of sauces and mayonnaise. Upon further inspection and taste, the fiery hit tells us it tastes like wasabi. His new range of Wasabi-O sauces packs a punch in taste but is also a revelation. "We haven't been eating real wasabi." A concept he is very passionate about, Chef Kani is out to break the facade that many Japanese food connoisseurs are accepting. While many do not realize it, Western Wasabi -though served commercially as authentic wasabi is not authentic.
The real item is expensive and difficult to grow and export. Western wasabi is in fact, a mix of horseradish and mustard; two condiments that have a similar pungency to wasabi. "It is more an implosion of flavours rather than an explosion," he describes it perfectly. Rather than the blazing heat that rushes to your nose and face, the natural, fibrous wasabi adds an underlying spice to your meal. In addition to cooking, Chef Kani also finds himself growing his own wasabi plants and supplying them to others.
Another culinary entrepreneur who echoes Chef Kani's ideology is Mario De Alwis. Most will know him as the founder of MA's Tropical Food Pvt. Ltd. Two weeks ago, Ma's launched its newest range of products; organic soup. When we meet Mr De Alwis at the cosy Ma's outlet in Thimbirigasyaya his reason for the new range is equally close to home. "I'm a grandfather," he smiles, and so he came up with the new products as an answer to his daughter-in-law's quest for clean, untreated food for his grandchildren.
Among the range are classics such as Vegetable Mulligatawny along with unusual combinations mustard and mango and Mario's personal favourite- the spicy Thai Tom Kha.
"There are a lot of canned and powdered soups in the market," but the concept of packeted organic soup was one he thought the local market needed. "Most soups are cornflour based," he explains. The new range is made using rice, virgin coconut oil and extra fibre added, for older consumers and children. He too had to make sure the flavours were engineered so that flavour enhancers wouldn't be used.
MA's was instrumental in the establishment of SAFE NET (Sustainable Agri-Farmers Enterprise Network ) but Mr. De Alwis admits that producing organic meat in the industry is difficult. The chance to launch his idea came when MA's was selected to rebrand their products in a "Branding in South Asia" programme. Their concept relied on local resources and science. "We need to think of what makes us different and noticeable as a country."
Chef Kani's products are available in Keells supermarkets from August 1. The MA's soup range is available in supermarkets and their outlet in Thimbirigasyaya.