'Kalu's Hideaway' excels at Chef's Guild Competition
View(s):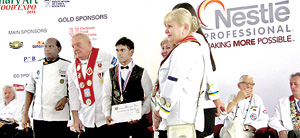 'Kalu's Hideaway', participated for the first time, won a Gold Medal at the recently concluded 16th Culinary Art Competition at the BMICH organised by the Chef's Guild of Sri Lanka. The Culinary Competition is part of the largest Food and Trade Exhibition in Sri Lanka.
Witharanage Susantha Sanjeewa, Senior Steward from the culinary team attached to 'Kalu's Hideaway' won a gold medal for Scan Sunquick Mocktail Competition.  'Having participated for the very first time in a competition of this nature, winning a gold medal is a tremendous achievement for the Hotel' said Romesh Kaluvitharana, the proprietor of the Hotel.
Kalu's Hideaway's  food and beverage team members have also  participated in the 'five – course set dinner menu', 'Vegetarian three course menu', 'Plated appetizers' and 'Flambé dessert' competition.  The team was led by hotel's Resident Manager Rajeeva Mendis (former Executive Chef) along with the Executive Chef Nirodhawardana.