Global village experience at Arcade Independence Square
By Dhananjani Silva
View(s):
Clad in a traditional Slovakian dress, young and bubbly Silvia Demokova from Slovakia was seen walking about at the Colombo Arcade Independence Square grounds. "I inherited this dress from my great grandmother. We generally wear our national costume only for an occasion," she explained to those who inquired about her dress.

In the vicinity is Polina Kalashnikova tapping a few wooden spoons to  give a musical demonstration to those surrounding her. "Ancient people used to play music with these wooden spoons while having their porridge. This has now become a traditional souvenir in Russia," she said.
Young Silvia and Polina were among the AIESEC volunteers who gathered near the Arcade Independence recently to participate in the AIESEC Global Village 2015.  With song/dance performances, live musical instrument demonstrations and stalls that showcased traditional food, souvenirs from various countries, Global Village 2015 was a unique cross cultural experience for the participants as well as visitors.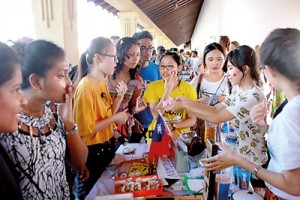 While the opening dance act by a group of foreign volunteers clad in sarong and osari had the audience mesmerised, the crowds enjoyed being a part of this remarkable event as they got to mingle with people from other nationalities to learn from them about their culture, traditions and way of life.
Lana Brazerek from Croatia says it is the first time in her life that she wore a sari. "I still find it a little difficult to walk about but it feels great to be in a sari," she laughs adding that the event is incredible for the diversity it brings.   Visitors and the participants to Global Village 2015 were in for a rare treat when they got to savour the authentic cuisine and sweets from various countries under one roof.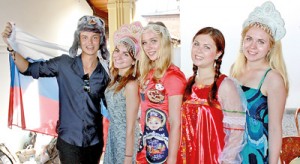 Mohammed Hassan from  Bangladesh says he enjoyed different tastes and aroma of food that he got to experience at other stalls. "I also feel really proud to have got the opportunity to represent my country here. There were lot of foreigners who approached me to inquire about the food I displayed at my stall," Hassan says.
At the Azerbaijan stall was Nurlan Sahangirli who brought with him small replicas of monuments of his country. "I brought these small replicas because not many people know about my country," he says showing a small replica of the Baku city, the Capital of Azerbaijan that he put on display at his stall.
This year's Global Village was attended by 150 AIESEC youth representatives from various countries such as China,Taiwan, Russia, France, UK, USA, Thailand, Indonesia, Czech Republic, Poland, Slovakia, Bangladesh, Malaysia, Lithuania, India etc. and it was truly a celebration of cultural diversity.
Raffles Design Institute Colombo served as the event's title sponsor whileFonterra Brands Lanka was the official beverage partner.