'Drums and Dance' Concert in Kandy
View(s):

'Drums and Dance', a different kind of entertainmet session with 'Naadro' and 'Chandana' was held at the Dharmaraja College auditorium, Kandy, yesterday, 8th August. 'Naadro' and 'Chandana' Concert was a dance and music extravaganza organised by two veteran artistes of their respective fields. The evening was planned to provide a unique experience to the viewers which has gone beyond the general concept of percussions and dancing. The concert was the first of its kind, organised to attract the international audience and it was a concert in par with the international standards.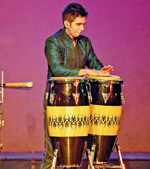 ChandanaWickramasinghe is an eminent figure in the Sri Lankan dancing industry, his experience and talent together with the young spirit of Rakhitha and the rest of the Naadro drummers added more colour and beauty to the performance in Kandy. The evening proceedings were not restricted to the traditional dance items of Sri Lanka, but it was a blend of eastern and western origin alike.
The concert was organised for the third time after two successful editions organised at the beginning of this year. This concert was the stepping stone to a series of overseas concerts to be held in the latter part of this year.
The '99 Events' was the event planner of this concert.