Victorious junior paddlers off to Malaysia
By Lakshman Ranasinghe
View(s):
Sri Lanka Junior Table Tennis team, runner-up in the recently concluded South Asian Junior and Cadet Table Tennis championship held in New Delhi will be on another mission to prove their prowess in the Asian region when they take wing to Kuala Lumpur, Malaysia for the Junior Asian Table Tennis championship 2015.

The tournament will be held from July 22 to 26 and the Sri Lanka contingent comprising of 14 players and three officials is scheduled to leave the island on July 21 (Tuesday). The selectors have made a wise move by sending the same team that competed in the South Asian championship as the young peddlers are having a good understanding, a good coordination and high class teamwork which was the main secret behind their success in New Delhi and are sure to carry forward in this competition too.
Sri Lankan team who finished second to India by winning a gold, six silvers and six bronze medals at the South Asian games and champions India were the only two teams from the South Asian region to be invited to take part in this event. This will be an acid test for the Sri Lankans as they will meet stiff opposition from other Asian countries – Japan, China, Korea, Hong Kong and Singapore.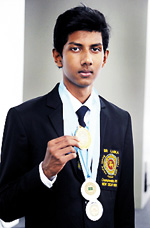 Udaya Ranasinghe, the Lankan skipper came out with flying colours to win the only gold medal at Table Tennis will have to lead from the front and repeat the performances at the Junior Asian event. Udaya who scored resounding victories to beat India No. one and Two to win the gold will be closely monitored by the other Asian countries at this tournament. Udaya with all his experience is sure to make every effort in winning a gold to make Sri Lanka proud. The silver medalists Krishan Wickremaratne, Ruvini Kannangara along with bronze medal winners Virunaka Hendahewa, Hansani Piyumila and Imasha De Silva will join hands with other team members to see the Lion flag fly high at the games.
Junior Sri Lankan peddlers will compete in four team events in Cadet Boys and Girls Under 15 and Junior Boys Under 18 and in four events in Junior Boys and Girls individual events. Sri Lanka juniors are hard at practice at the Jagath Rajapaksa International Indoor Stadium in Kandy under the watchful eyes of coaches Dilmini Direckze and Buddhika Dikkumbura.
Teams:
Junior Boys Under-18: Udaya Ranasinghe (Vidyartha College, Kandy (Capt.), Krishan Wickremaratne (Vidyartha College, Kandy), Dinesh Kavishka (Vidyartha College, Kandy), Prasad De Silva (Vidyartha College, Kandy).
Junior Girls Under-18: Ruvini Kannangara (SLIIT Capt.), Muthumali Priyadarshani Devananda College, Ambalangoda), Ridmi Karandanarachchi (Mahamaya Girls College, Kandy), Chamathsara Fernando (Visakha Vidyalaya, Colombo).
Cadet Boys Under-15: Virunaka Hendahewa (Royal College, Colombo), Disanka U. Tennakoon (Dharmaraja College, Kandy), Nimesh Ranchagoda (Royal College, Colombo).
Cadet Girls Under-15: Hansani Piyumila Kapugeekiyana (Visakha Vidyalaya, Colombo), Imasha De Silva (Dharmasoka College, Ambalangoda), Thanushi Rodrigo (Mahamaya College, Kandy).
Tour officials: Dilmini Direckze (Manageress cum Lady Chaperon), W.A. Buddasiri (Head Coach) and Buddika Dikkumbura (Coach).