My wave hits Arugam Bay on July 23
View(s):

The much awaited 2015 version of the Red Bull Ride My Wave will return to the seas of Arugam Bay from Thursday, July 23. The day will be full of action and expectations from the competitors who will take on the waves in a head to head competition to be crowned champion of Red Bull Ride My Wave 2015.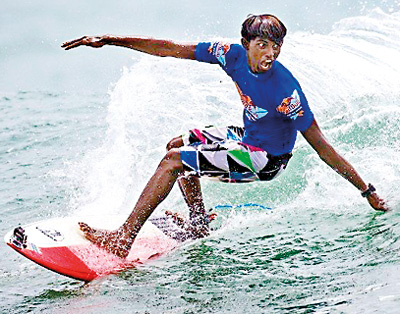 Driven by its popularity of the 2014 event, this year's edition will see domestic and international surfers compete over three days on the island's eastern coastline. Red Bull Ride My Wave will be officiated by expert members from the Association of Surfing Professionals or the ASP, who will run the event as per international surfing rules and regulations, including three days of heats before culminating with the final on Friday, July 25.
The islanders will play on home advantage, but should expect stiff competition from the international competitors. The combination of home grown and international talent promises to promote Sri Lanka as one of the best surfing destinations.
In 2013, Red Bull held the Local Hero Tour with Peruvian Pro Surfer, Gabriel Villarán, who ran workshops and judged an intense competition where 30 young Sri Lankans showcased their talent in Arugam Bay. The success of this event set the foundation for an international surfing stage in Sri Lanka, activating the inaugural Ride My Wave competition last year.
The competition pitted the sport's greatest local surfers from the Eastern and Southern waters against each other in a quest to determine which region was home to the island's best surfers. Hosted by Costa Rican Pro Surfer, Diego Naranjo, the East Coast team emerged victorious and went on to represent Sri Lanka at Red Bull Both Ways in the Maldives, where they were placed second, third and fourth respectively.