Hockey back on the road with Manjula at the helm
View(s):

The Sri Lanka Hockey Federation after a hibernation of ten years is all set to get into action with the election of Manjula Wijemanne as its president. At one time hockey in Sri Lanka was ranked third in the world only behind Pakistan and India. But over the years the game has slid down and even Bangladesh was able to beat Sri Lanka.

The new Minister of Sports Navin Dissanayake came down hard on previous regimes not allowing them to hold office for more than four years. Hockey is one of them. According to Manjula this facilitated a more conducive environment for the legible hockey enthusiasts to consider a set of nominations which was backed by Mercantile HA, Colombo HA, Defence Services and Kandy HA, who are the live-wire associations in the fraternity.

Manjula is a product of Ananda College. He played at all age groups within the school and represented Sri Lanka Schools in Junior and Senior Nationals in 80 – 82 was awarded College colours and Sri Lanka School's colours. He was selected to represent the Sri Lanka U 19 at the Junior International Hockey Tournament in Lucknow 1981.

He has represented CR & FC, Old Anandians' Sports club, and captained both. He has represented Mercantile Hockey Association and Colombo Hockey Association in junior and senior nationals. Manjula was in the Sri Lanka senior pool from 1984 – 1986.

He was president of Old Anandians Hockey 2004 – 2015 and was involved with the Colombo Hockey Association from 1998 – 2012, committee member, treasurer and President for five years and was invited to be the President at Mercantile Hockey Association (2013 – to date).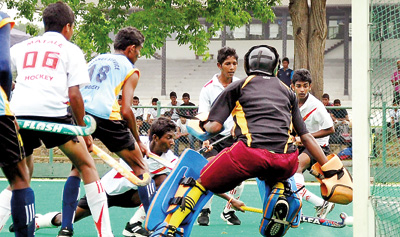 He is currently employed at Browns Group as the Senior Vice President. In this context it is best to take a look at hockey in Pakistan and India. Pakistan used to boast some of the world's best players — the likes of Sami Ullah, right winger Islahuddin Siddiqui and playmaker Shahbaz Ahmed, who anchored Pakistan's last World Cup victory in 1994 in Australia.
But the sport has moved on significantly since those days, with technical innovations such as artificial turf as well as new tactics and frequent rule changes. Former goalkeeper Mansoor Ahmed, whose penalty stroke save in the final helped Pakistan win the world title in 1994, said Pakistan were also badly lagging in fitness.
"We did not keep pace with the changes in hockey," he said. "Our players lack fitness, the officials and coaches are not fit for the task and above all, political influence destroyed our game." While European teams and Australia marched on with high levels of fitness, lasting 70 minutes on stamina-sapping turf, and players from Asia were exposed.
Asia, once regarded as the superpowers of field hockey with South Korea emerging in 1980s, will only have one representative — India — at next year's Games in Rio. India, the eight-time Olympic gold medalists, missed out on the 2008 Beijing Games but managed to regroup with a big injection of financial support. Pakistan have been plagued with money woes, with head coach Shahnaz Shaikh and skipper Mohammad Imran blaming the lack of funding for the team's failure.
"I have been shouting for funds for the last year," said Shaikh, a world famous left-side forward in his day. "Government needs to pour big money to lift hockey as we lack facilities." Imran said the lack of funding was having a serious impact on the players' conditioning.
"You can't compete at international level eating chickpeas and bread," he said, referring to the players' diet in the pre-tournament camps.